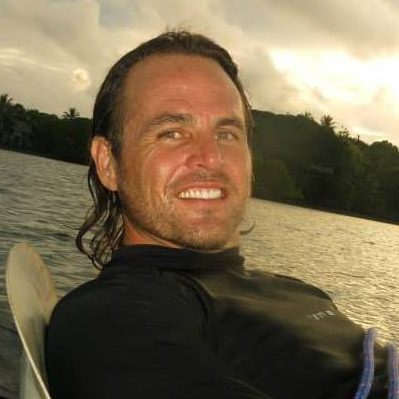 Brad Holland
Media Consultant/Photographer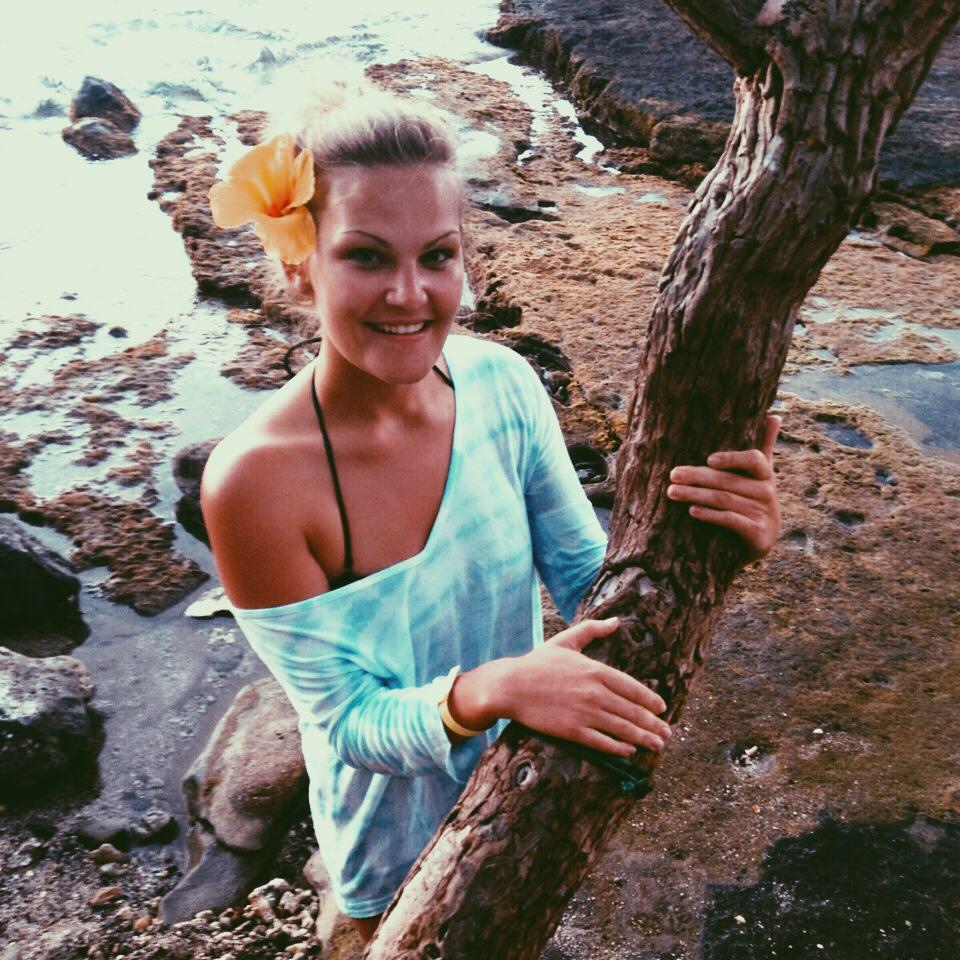 Jennifer L. Weir
Dive Safety Officer/Instructor & Research
Past Board Members & Team Members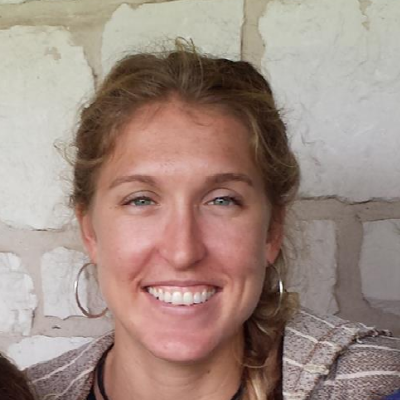 Whitney Blanford
Administration/ Development Director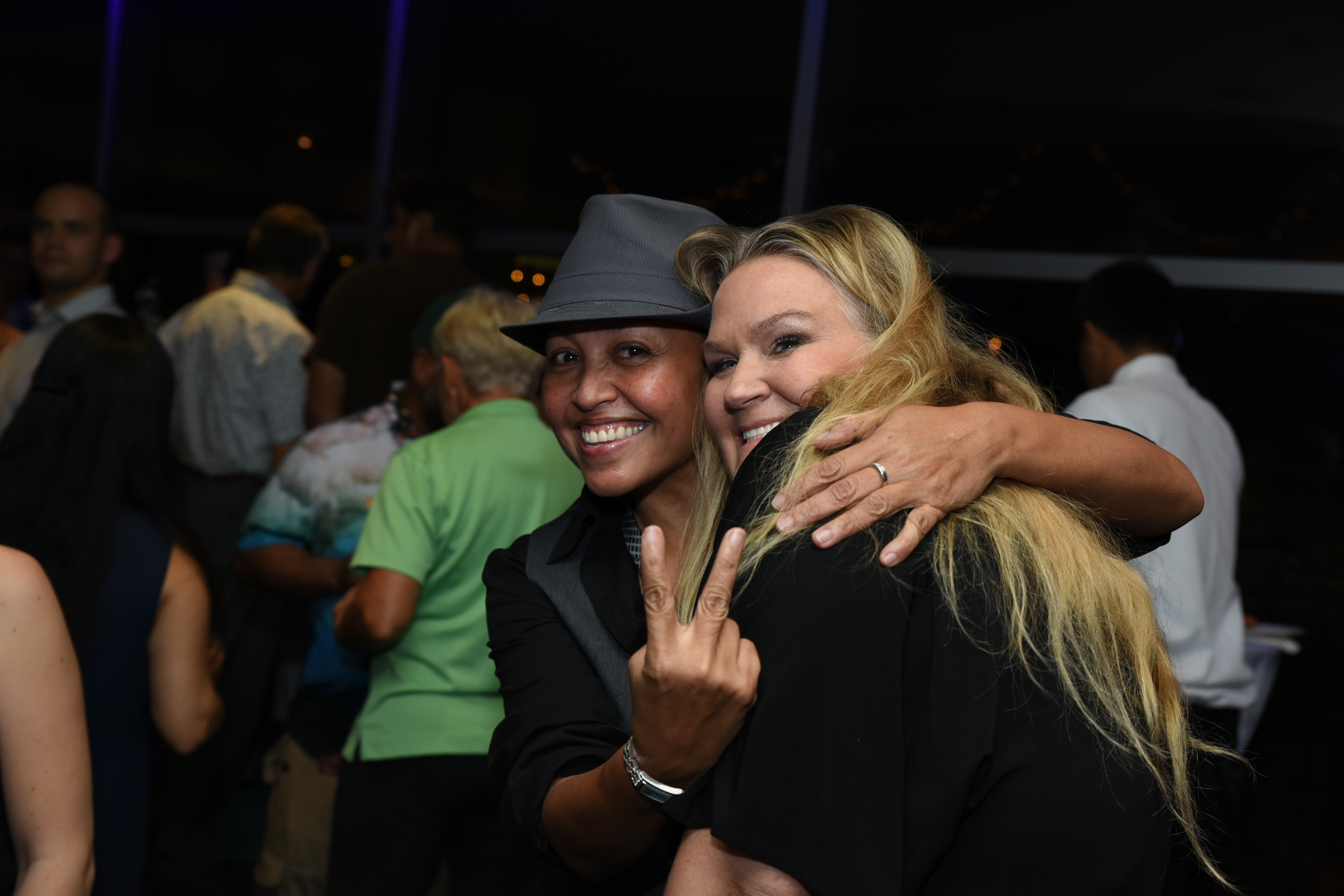 Rosanna Barcinas, Chairwoman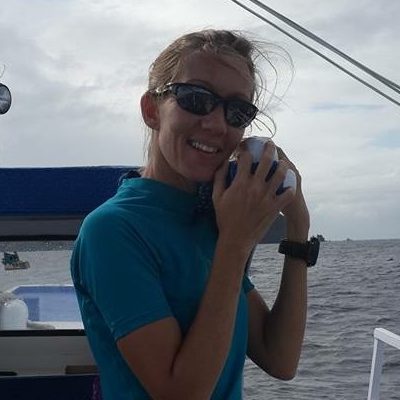 Rebecca Lechalk
Manta Survey Team/ Outreach Coordinator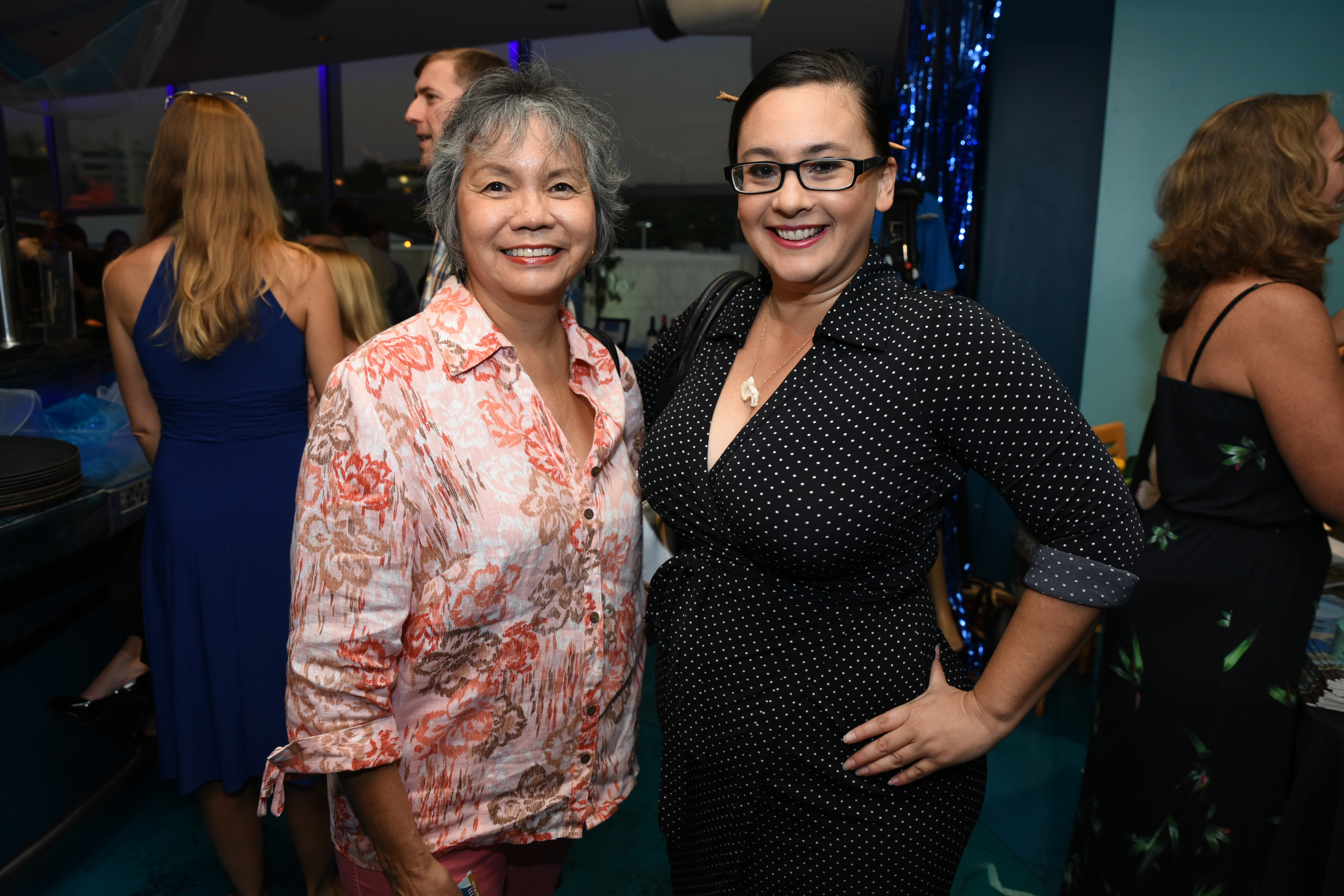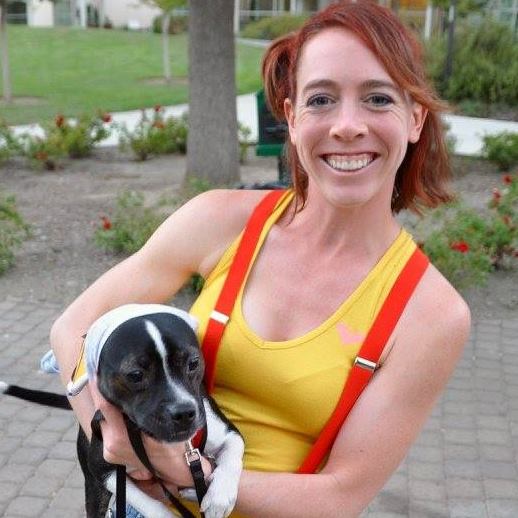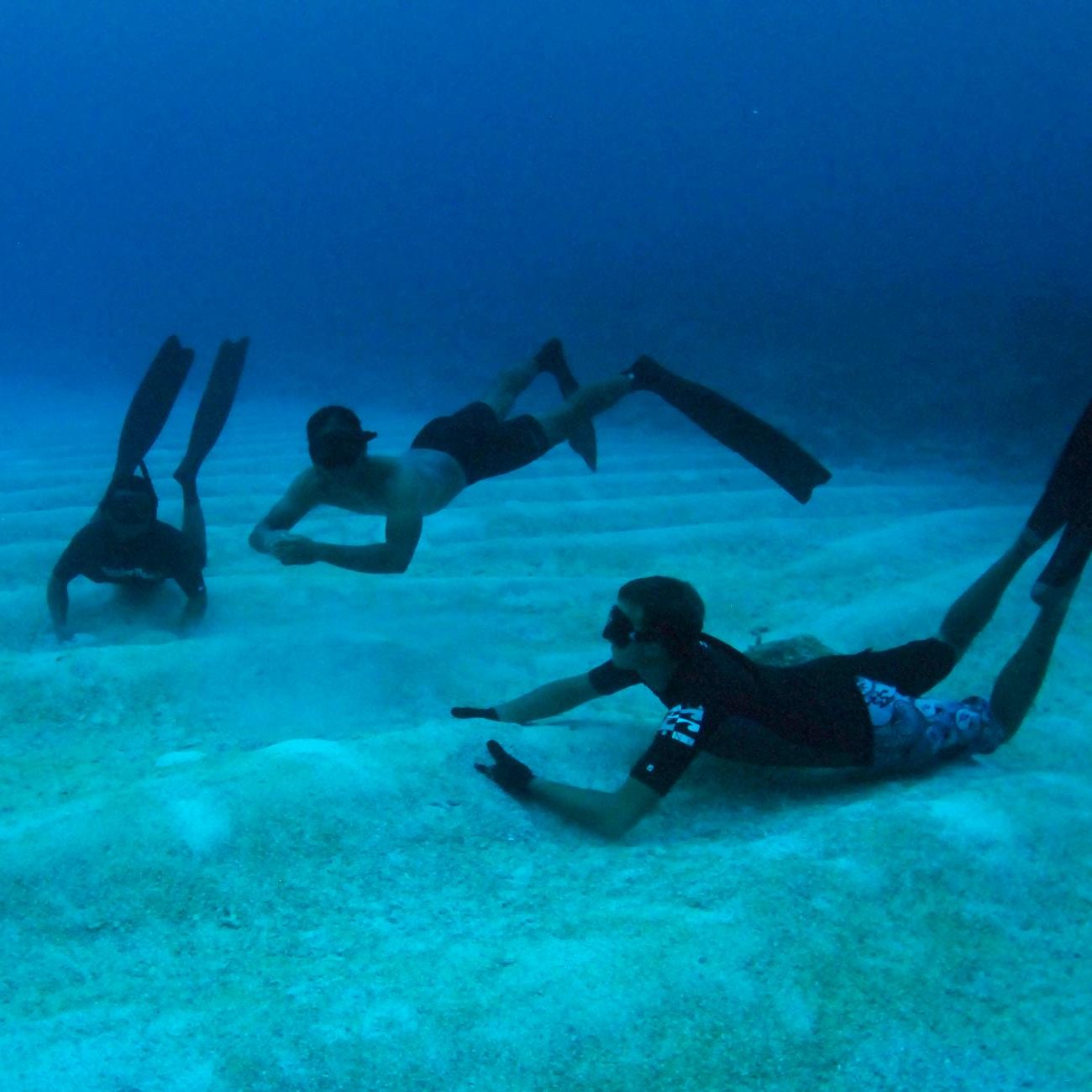 Carlos Laguana
Cultural Advisor/Outreach Coordinator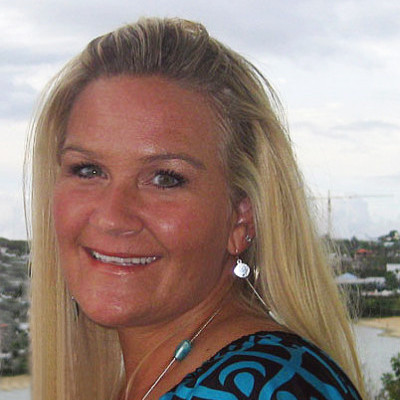 Julie Hartup
Founder & Director, Executive Scientist & Board Member
Julie obtained her degree in Zoology from Brigham Young University and was a research diver and teaching assistant for their marine biology program held at Hopkins Marine Station in Monterey California. Julie completed several internships at the Monterey Bay Aquarium in Water Quality, Visitor Presentations, and Tuna Research Center. After moving to Guam in 2007 with her husband Dr. Jason Hartup and four children. Julie began working on her master's degree at the University of Guam. Julie came across a new undocumented feeding behavior of the reef manta ray, targeting reef fish spawning aggregations to feed off fish eggs. Julie trained in the Maldives with the international NGO Manta Trust Founder Guy Steven, and later became Manta Trust Project leader for the Federated States of Micronesia, and the Marianas Islands. Julie is also a board member and scientist for Hawaii Association for Marine Education and Research. Currently, she has expanded her area of study on manta rays throughout Micronesia such as: Northern Marianas, Yap, Outer islands of Yap-Ulithi, Pohnpei, and Marshall Islands. Starting in 2015, Julie Hartup along with follow scientist Jennifer Cruce created Micronesian Conservation Coalition with extensive help and assistance from Whitney Blandford and Carlotta Leon Guerrero, co-founder and Director of Ayuda Foundation.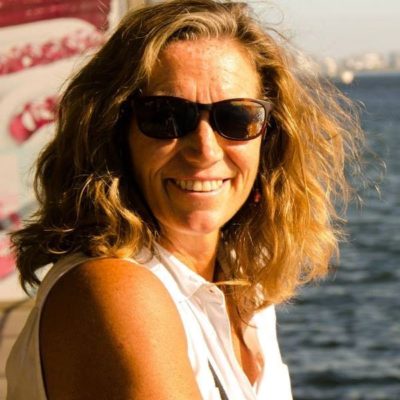 Belinda Baird
Operations & Administration
Belinda grew up in Nova Scotia on the east coast of Canada. What's written on their license plate is "Canada's Ocean Playground"! She took that literally and figuratively. She loves being in and on the water whether it's racing in sailboats or exploring under the waves in scuba or snorkel gear. Belinda has had the good fortune of marrying a man who has taken her to live in wonderful places to be able to do this in various waters around the world. With moving around with her husband she has had the opportunities to work with various people and organizations. Always looking for a way to give back in an enjoyable and rewarding atmosphere that is connected to what she believes in and enjoys. Belinda has certainly found that on Guam and with the Micronesian Conservation Coalition.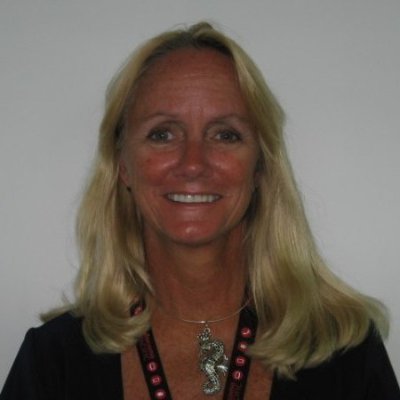 Donna Calhoun
Developmet and Operational Coordinator
Donna Calhoun is a Human Resource Professional who brings over 25 years of business experience to MCC. Donna is an avid diver who is motivated to save the resources that she passionately supports. She is active in many civic initiatives on Guam and Saipan focused on building a technology infrastructure for both islands.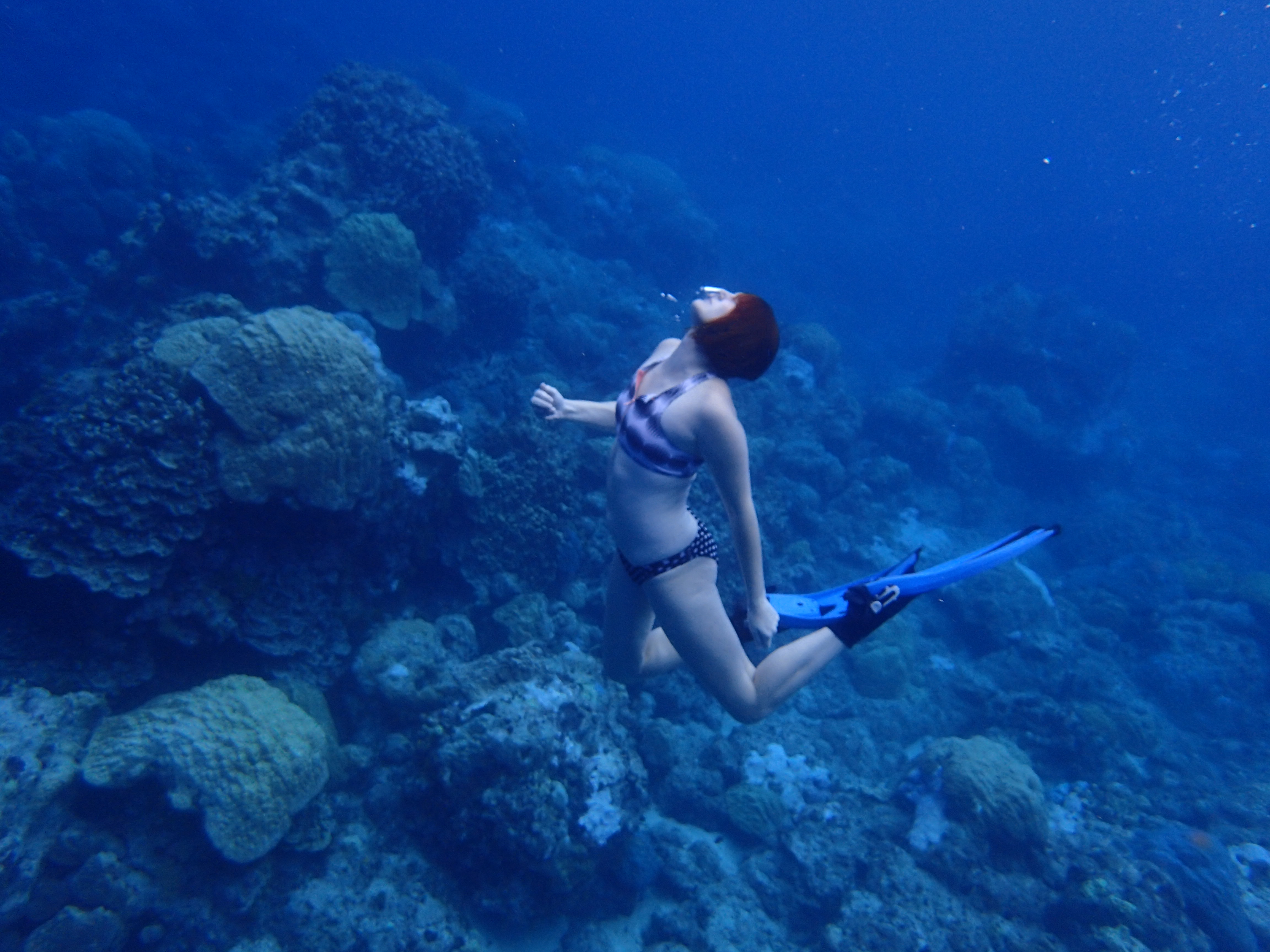 Jenifer Burney
Project Development Director/Webmaster
I have been passionate about sharks and the ocean since I was a small child. I always knew I would grow up to be a marine biologist, and in 2011 I traveled to Fiji for a Shark Behavior and Conservation field course. There I was able to study and interact with bull sharks and reef sharks in the wild, further solidifying my desire to participate in ocean research. In 2012 I graduated from North Carolina State University with a B.S. in Zoology. I moved to Guam in 2014 after accepting an Aquarist position at Underwater World Guam. Since moving to Guam, I have been able to meet with biologists from all over the globe while advancing my skills in scuba diving and my knowledge of marine biology. In my free time I am an amateur photographer, hiker, diver and avid reader. I am ecstatic to join the MCC team and participate in vital research that will help educate the public and promote healthy oceans.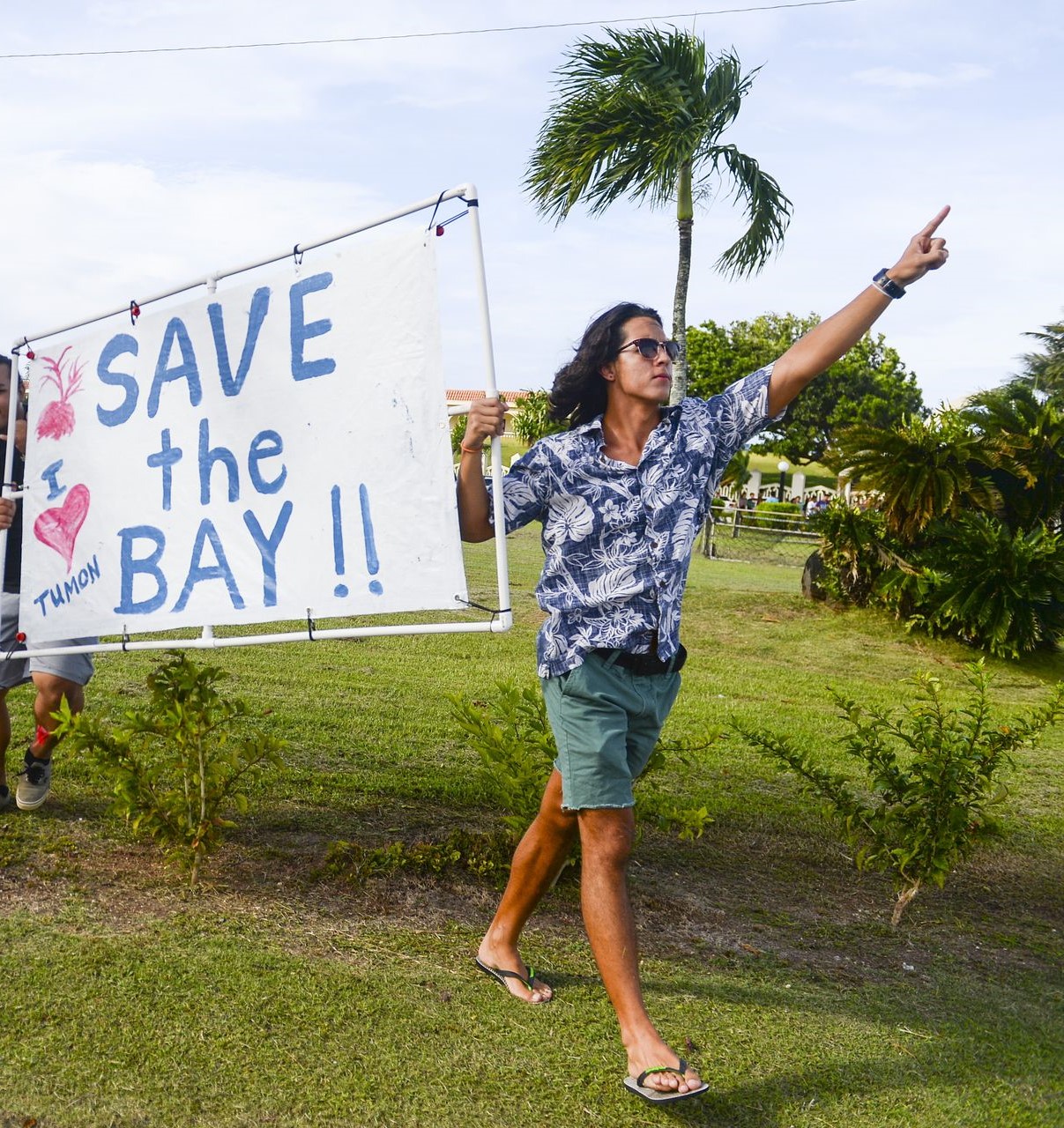 Corey Santos
Social Media
Corey Santos was born and raised on a beautiful island in the middle of the Pacific Ocean.  He's currently a student at the University of Guam pursuing a degree in communications. Corey is an avid writer, an aspiring photojournalist, and a published poet. He is a lover of the ocean, the earth, and the arts. He also tends to write in the third person.
Wielding the power of social media in his left hand, and the unlimited potential of the internet in his right, Corey's current purpose in life is to create a more informed society and to spread the message of MCC as far as the human eye can see.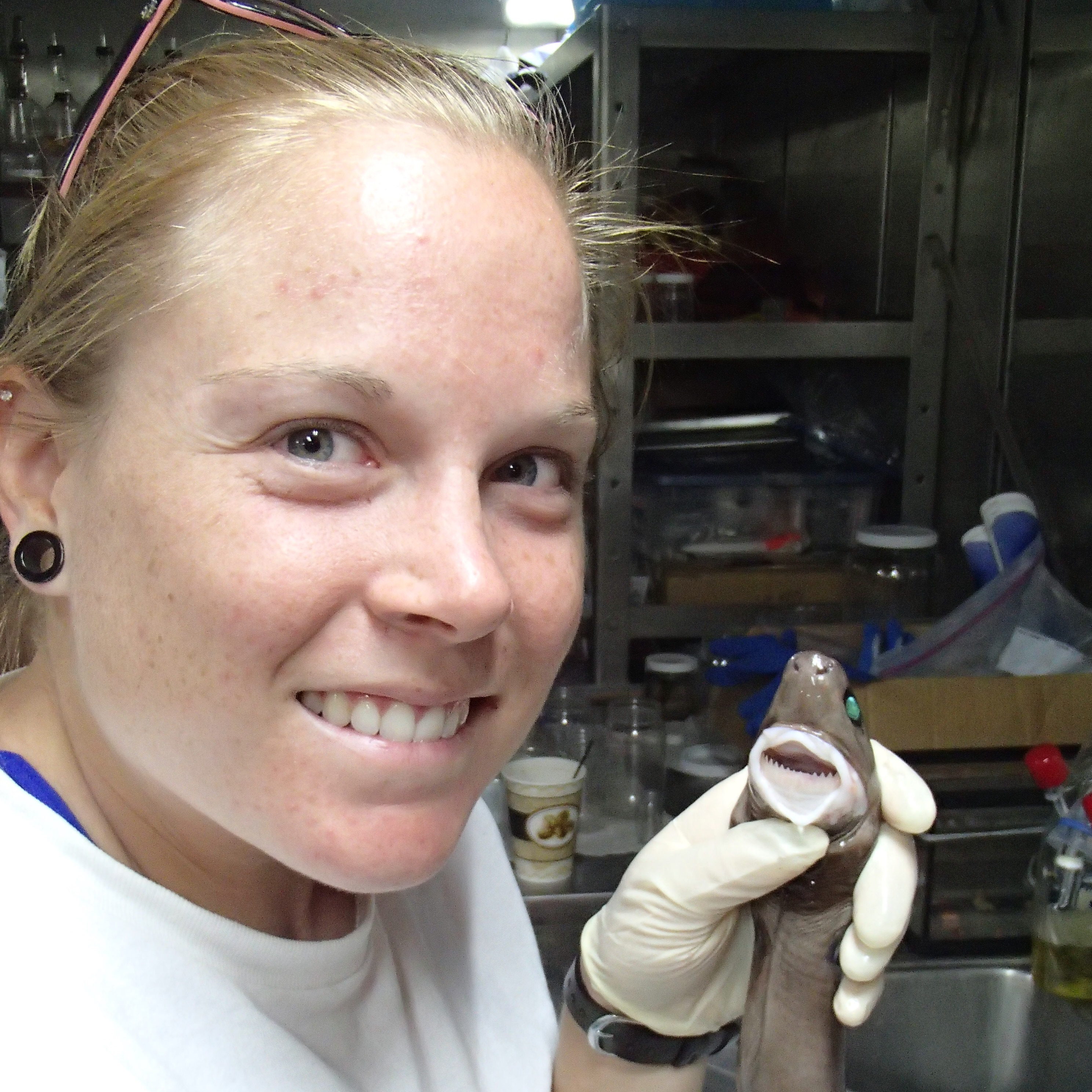 Diona Drake
Research & Outreach
Diona has been passionate about chondrichthyes and conservation since she was a little girl. She received her BS in Marine Science and Biology from East Stroudsburg University and is currently working on her MS in Biology at the University of Guam Marine Laboratory. Her thesis work is focusing on population genetics of sharks between the islands of the Mariana archipelago. She also has experience teaching coastal ecology and biology to all ages and loves educating the public on marine topics and conservation issues. In her free time, Diona enjoys hiking, scuba diving, reading, and paddling outrigger canoes. She is ecstatic to be a part of the Micronesian Conservation Coalition.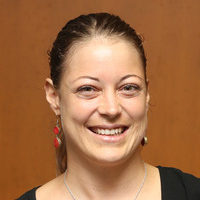 Maria Kottemair
Marine Team
Maria Kottermair is a certified Geographic Information Systems (GIS) Professional and has applied that expertise on Guam for over a decade. She holds a B.S. in Cartography from the Munich University of Applied Sciences and a M.S. in Environmental Science from the University of Guam. 
Lately, Maria has combined her love for GIS and islands by expanding scope to other locales in Micronesia, notably the Outer Islands of Yap. Though Maria loves the ocean and all its creatures, mantas have always fascinated her especially. It was through assisting with Founder Julie Hartup's graduate field work that a strong partnership was formed. Building on their shared passions and strong mutual commitment to the conservation of our local environments, Maria joins Julie and Micronesian Conservation Coalition as their GIS Specialist.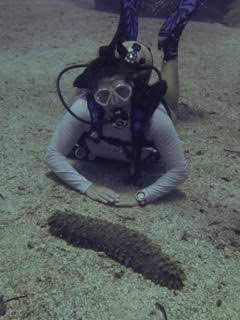 Adair Olsen
Education & Outreach Coordinator
Adair was born and raised in South Carolina and knew she would be a marine biologist from a very young age. She loved learning everything about all the animals in the ocean and looked forward to her family's yearly trip to the beach. Adair attended college and graduate school at College of Charleston where she got her bachelor's and then master's degree in Marine Biology. Her graduate thesis focused on proteins in the kidney of the Atlantic stingray that allows them to live in both saltwater and brackish water. She will happily talk to you about elasmobranch urine, if you are so inclined! In 2012, Adair moved to Guam with her husband and two fur babies. She has worked for several aquariums, where she was able to teach people about the wonders of the ocean. Adair strongly believes that education is the basis for effecting much needed environmental change. She is excited to be working with MCC, where she can help share her love of the ocean and all its inhabitants with others. Adair enjoys diving, hiking, and seeing as much of the world as she can. "In the end we will conserve only what we love; we will love only what we understand; and we will understand only what we are taught." (Baba Dioum, 1968)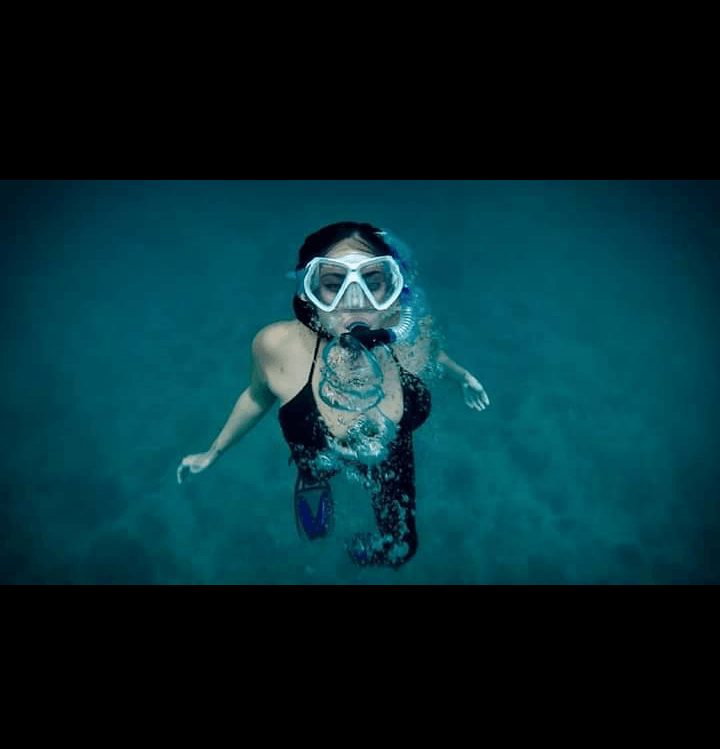 Randi Lynne
Marketing & Marine Team
Born in California and raised in Philadelphia, from coast to coast, country to country, sea to sea, traveling was all Randi knew for a very long time. About four years ago her travels lead her back to her roots and she fell in love with the beautiful island of Guam. Now calling Guam her home, with a business, sales & marketing, and advertising background, Randi is more than excited for the passion, knowledge and experiences she will gain with MCC to help spread the message of ocean conservation throughout the Micronesian Islands.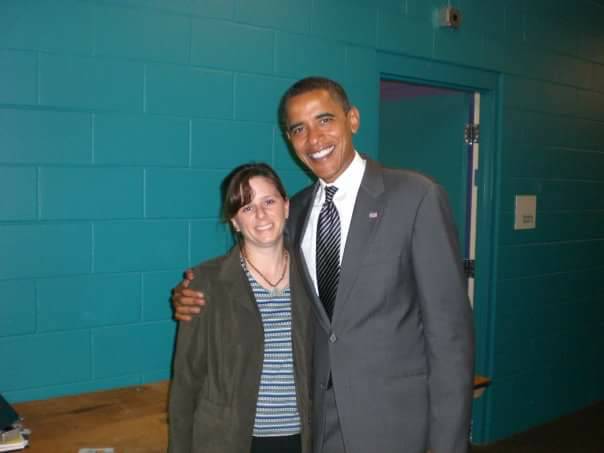 Stacy Gilmore
Operations & Administration
Stacy Gilmore grew up in Michigan where she earned a B.S. in Biology and M.S. in Fisheries and Wildlife. She has worked for two native american tribes striving to protect their freshwater resources. Recently she returned to graduate school and earned a Master's Degree in Secondary Science Education, and has been teaching High School Biology and Chemistry since. Her ultimate goal is to combine her two specialties and provide more experiential environmental activities for our youth to reconnect them with our natural resources so they may better appreciate their value.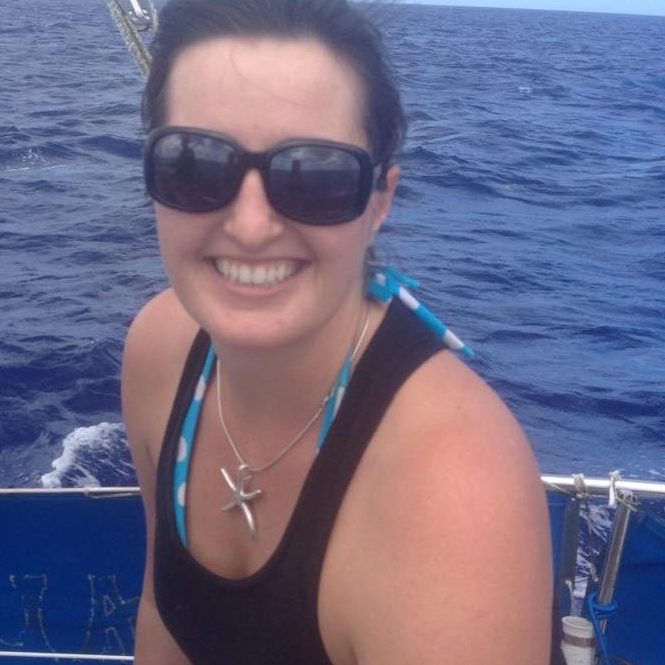 Julia Berg
Sea Life Adventure Director
Julia Berg earned her B.A. In Environmental Education from Western Washington University, in 2004. Following an internship at the Belize Marine Tropical Research and Education Center, she worked on various charter sailboats. From 2006-2009 she landed her dream job as a naturalist for Jean-Michel Cousteau at his Ambassadors of the Environment Program, at the Ritz-Carlton Grand Cayman.   Over the years, Julia has enjoyed traveling, working as a Naturalist, Nanny, tour Guide, Bus Driver, and Boat Captain from Alaska, to Switzerland.
In 2009 Julia founded a small environmental education non-profit, Live Ocean, based on a donated sailboat. She spent two years working as DUKW captain, restoring the boat, and living aboard while planning her escape to follow her dreams.  In 2011, Julia set sail and spent a year touring the West Coast giving free sails and dockside education along Puget Sound, Washington, and Oregon with a volunteer crew.   Julia moved to Guam in 2014 with her infant son and husband. She loves Guam, and is happy to have found a home at MCC.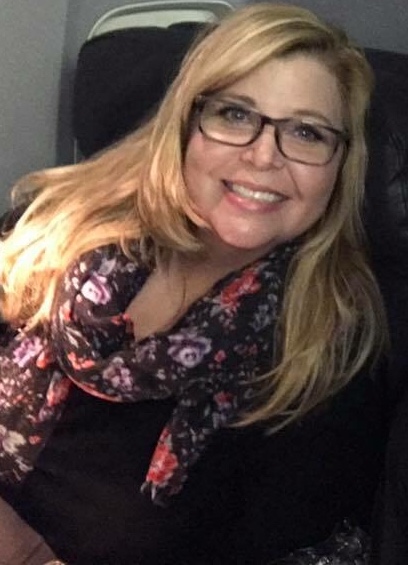 Deane Jessee-Jones
Operations & Administration
Deane Jessee-Jones moved to Guam in 1991, when she married her college sweetheart, Jay.  Together they have 3 kids and have spent the last two decades enjoying life in Guam and Saipan.  Deane works as an Adjunct Social Science Instructor at the University of Guam and as an Educational Therapist providing testing and consulting services for children with learning weaknesses.   Deane has always loved nature and all the creatures on land and in the water.  It is no surprise that she would want to protect the Micronesian Islands and make sure all islands are as beautiful and flourishing in the future as they are today.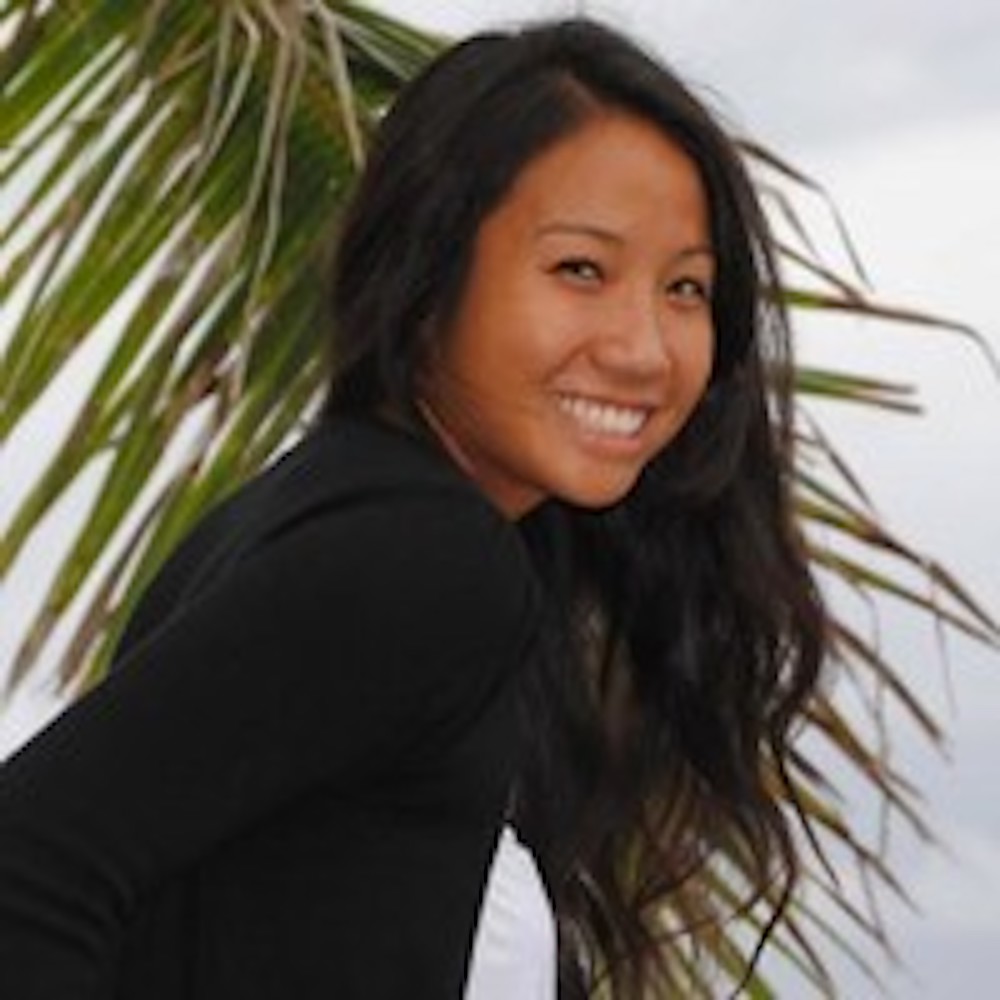 Dr. Cynthia Lai
Project Outcome Analyst
Cynthia is a strategic analyst that specializes in identifying and developing measures that informs and advises program performance and management, respectfully. What gets measured, gets managed- has been the tag line behind her research and professional endeavors. Starting her career in the environmental sciences, Cynthia has expanded her skills and experience to the fields of natural resource management, business and economics. Professional highlights include working for the Taiwan Environmental Protection Agency, the United States Agency for International Development in India, Nepal and the Philippines, and completing her PhD at the University of Hawaii at Manoa. In her spare time, Cynthia enjoys playing music with her friends, hiking, diving, and cooking. She currently resides in Guam where she is a consultant for Asia Pacific Airlines, and will be heading to Washington in October to start her next adventure.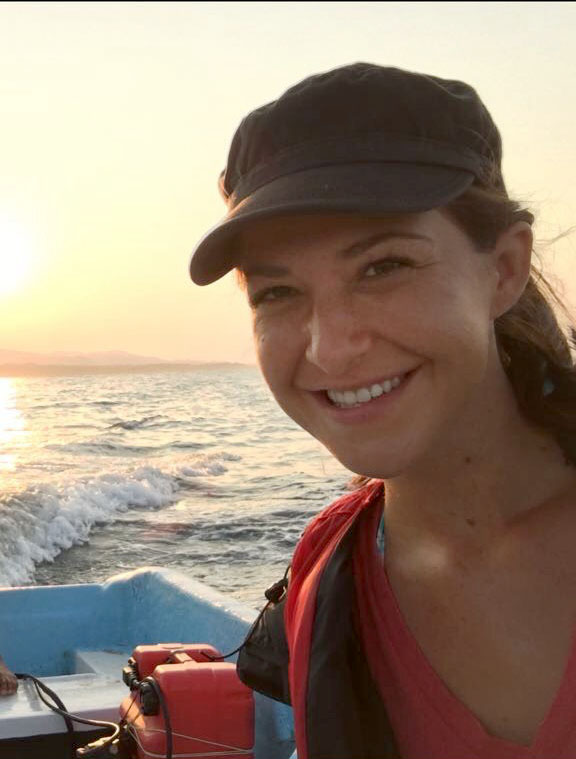 Katlyn Murray
Media Consultant
Katlyn Murray is a Media Consultant specializing in non-profit organizations. She uses photography, video, and writing to tell stories about causes she believes in. Katlyn has helped MCC with crowdfunding and social media for our Standing with Ulithi fundraiser. She has been fortunate to spend lots of time enjoying the ocean and living in coastal communities and firmly supports MCC's commitment to protect both.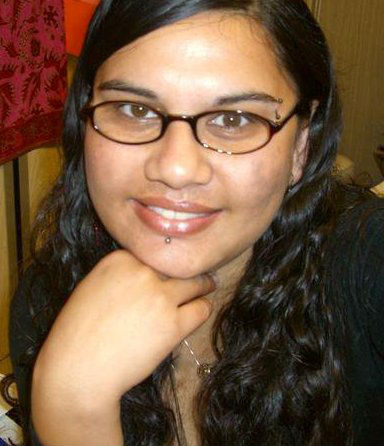 Joliene Hasugulayag
Board of Directors
When she was a young girl, Joliene "Jo" Hasugulayag migrated from the Outer Islands of Yap to Guam.  She currently works as a renal social worker, and an adjunct social work instructor in the University of Guam Social Work Program.  Her  personal and professional interests revolve around cultural preservation and perpetuation, as well as sustainability (cultural and environmental) in Micronesia.  During her free time she most enjoys spending quality time with her family, reading, and creative writing.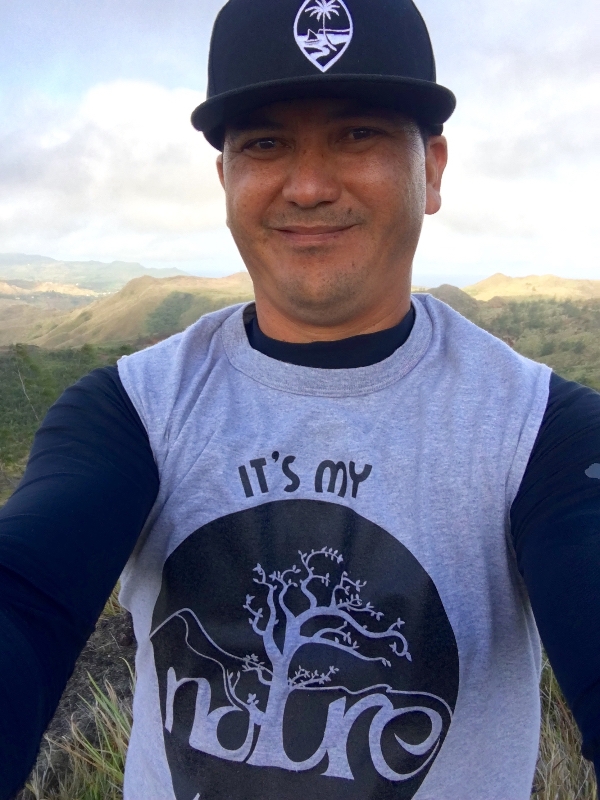 Jeff Quitugua
Board of Directors
Exposed to the island's natural resources at a very young age, Jeff was inspired to learn more about the biology of Guam.  After pursuing his education at the University of Guam, Jeff was employed with the Division of Aquatic and Wildlife Resources for a year before becoming a biology teacher at Benavente Middle School and George Washington High School.  He was a public school teacher for 4 years before returning back to being a field biologist.  As much as he loves sharing knowledge, working with the resources is his passion.  Having the opportunity to be a part of the development of the Micronesian Challenge and Conservation Action Plans, and native species recovery plans Jeff brings to the table the experience and the local knowledge of Guam's natural resources.  His goals in life are to spread awareness for the love of the resources for all to protect, promote, and preserve, and to inspire the new generation of future biologists.  Being active with the Guam Nature's Alliance and MCC will be a great vehicle to continue his passion and love for the natural resources and his island home… Isla Guåhan!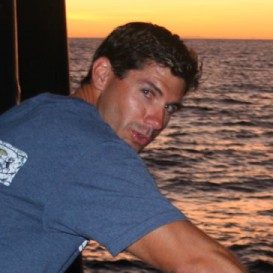 Dr. Mark Deakos
Scientific Advisor
Dr. Deakos is President, Founder, Treasurer, and Chief Scientist for The Hawaii Association for Marine Education and Research (HAMER), a not-for-profit 501 (c) 3 corporation that he founded in 2004. Dr. Deakos devotes his time pursuing the mission of HAMER, giving talks to the general public, and contributing his expertise as a marine mammal observer on marine mammal survey cruises. Dr. Deakos now spends much of his time in saltwater as an avid scuba diver, free diver, kayaker, and mariner. His chosen career working in wildlife biology and marine research is an extension of his passion for the natural world and his marvel of the ocean environment. Dr. Deakos obtained his biology degree from the University of Waterloo in Canada where he began pursuing his interest in wildlife biology. At the University of Hawaii, he completed his master's degree studying humpback whale behavior and continued his graduate work by completing his doctoral degree with a focus on manta ray ecology. Dr. Deakos was the project field coordinator for the University of Hawaii's Humpback Whale Research Program for seven consecutive years. His experiences have taught him the necessity of understanding our environment in efforts to better protect it from ecological or man-made threats.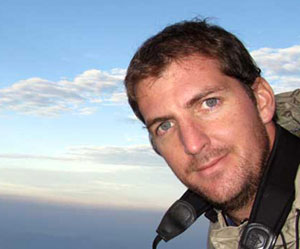 Guy Stevens
Academic Advisor
Guy has always been fascinated by the natural world, and growing up on a farm in the South West of the UK surrounded by nature provided him with a seemingly limitless supply of weird and wonderful creatures to discover. He always knew he wanted to make a career from studying animals, but it wasn't until he was given a tropical fish tank at the age of eleven that his passion for the underwater world began. From that moment forward when people asked him what he wanted to do when he grew up, he would say "I want to study fish!" So, true to his word he progressed through school and college with this in mind and in 2002 he graduated from the University of Plymouth with a degree in Marine Biology. University opened his mind to the rest of the world and he was hungry to travel and explore as much of it as he could. Visiting and diving in the Caribbean, Africa and Asia he knew he wanted to work in one of these tropical destinations, so in 2003 when he saw a job advertising for a marine biologist to work in the Maldives he knew it was the job for him. The Maldives is a marine biologist's paradise and it was in the Maldives that Guy had his first underwater encounter with manta rays. He was enthralled by these amazingly graceful and inquisitive rays and from that moment forward he has been driven by a desire to learn as much about them as possible. In 2005 he founded the Maldivian Manta Ray Project (MMRP) with the aim of helping to conserve this country's manta population through active research and education. His work with manta rays now takes him to other corners of the world, but the Maldives for him will always be the best place to see and study these amazing animals. Guy is now working towards the completion of his PhD on his manta research at the University of York in the United Kingdom. Guy's conservation efforts in the Maldives have led to the creation several Marine Protected Areas (MPA's) at key manta aggregation sites, most notably at Hanifaru Bay, where his work was featured in the National Geographic Magazine in July 2009. This amazing location, situated in Baa Atoll, was in 2011 also declared a core protected area within the newly designated UNESCO World Biosphere Reserve that encompasses the entirety of Baa Atoll. Guy and his conservation efforts have also featured in over a dozen TV documentaries; including a BBC Natural World Special, National Geographic Worldwide & ABC's "Project Manta", ITV 's "Man to Manta", Channel 4's "Big Fish Fight", 60 minutes Australia and the BBC's "How Life Works".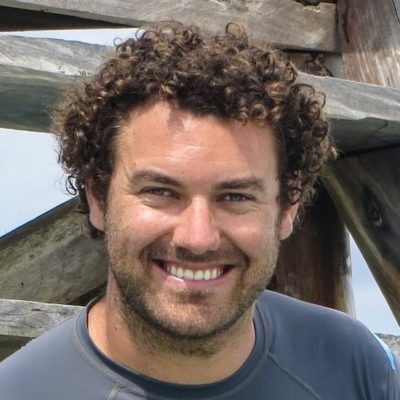 Dr. Steve Linfield
Scientific Advisor
Steve recently completed his PhD from the University of Western Australia studying depth refuge and the impacts of fishing on coral reef fishes. His previous research was conducted in Micronesia using stereo-video techniques for counting and measuring fish. He has recently been appointed as a fisheries researcher at the Palau International Coral Reef Center and will be doing fish surveys around Palau during this mission in order to provide data on the size structure and species composition of fishery targeted species.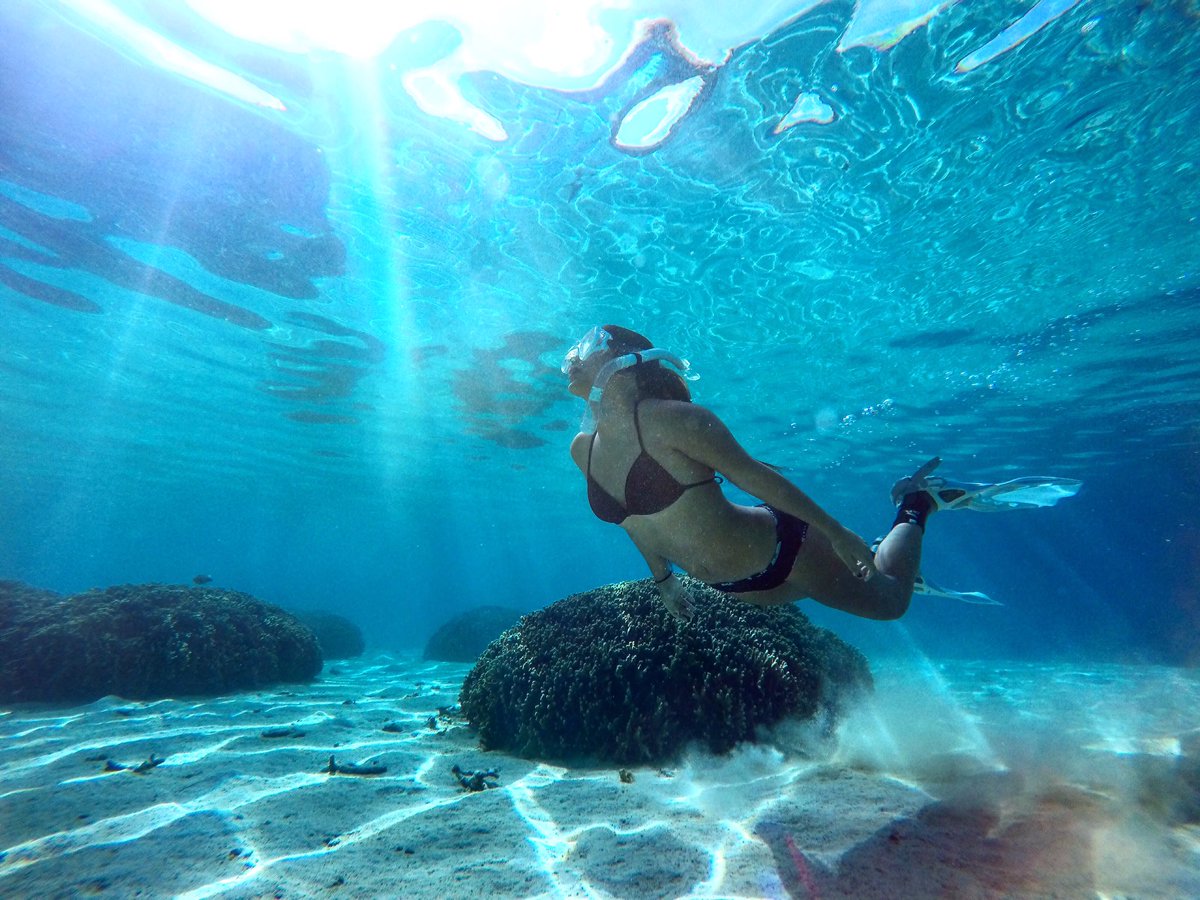 Ashley Castro
UOG Ambassador
At 5 years-old, Ashley's parents would ask what she would want to be when she grows up and she would reply, "A marine biologist." At a young age, she has always been absorbed and captivated by the beauty of the ocean and the life within. Believe it or not, she fell in love with dolphins since the time she had a conversation with one that was more of back and forth squeaking when she was a toddler at a sea life park in New York. Working to protect the ocean and its animals is a job she would love to have throughout her whole life. She had a blast in being a part of Guardians of the Reef in high school in where she would go to different schools teaching elementary students about how coral reefs are fun to learn about and how they can protect them. She is currently attending UOG and is very excited to immerse herself into the island community by teaching others about the importance of protecting reefs and instilling the love of the ocean in their hearts. Her ocean-minded persona drives her to educate people of all ages about the ocean and influence them to dive on board to support our island's ocean conservation efforts. She recognizes that people love watching her videos of diving and uses that as an opportunity to talk about her passion. During her free time you can catch her diving, snorkeling or surfing. Ashley hopes to pursue a career in marine biology and is excited to gain new experiences with the MCC family.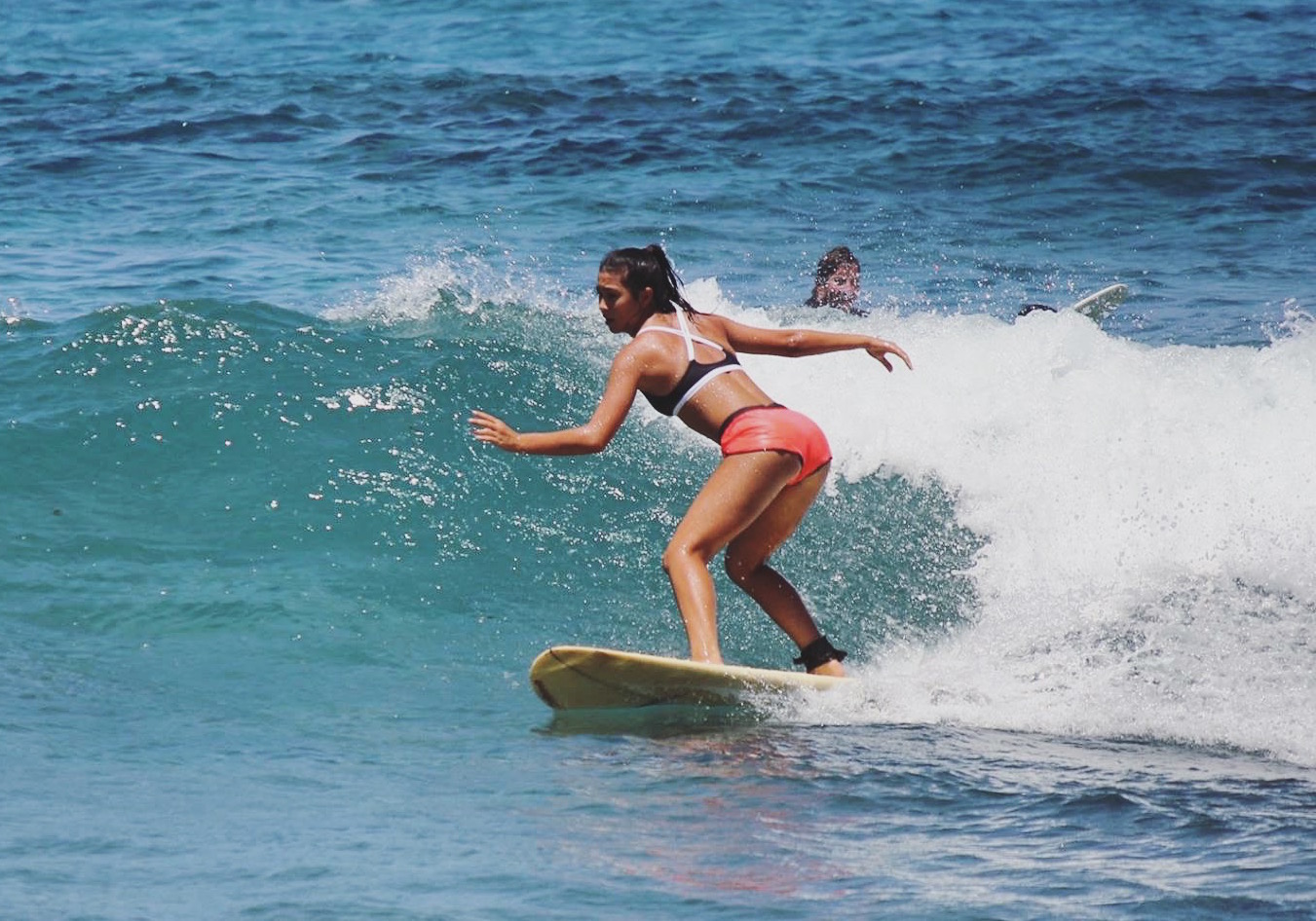 Andrea Odell
Intern
Born and raised on the beautiful islands of Guam and Maui, Andrea spent most of her life in or on the water either diving with fish or catching waves with friends. Growing up, her father owned a tourism company, Real World Diving, that included dolphin watching and scuba diving. Her love for the ocean is rooted from spending these countless days on the boat and in the water with her dad.
Currently a Sophomore at the University of Washington in Seattle, she studies Biology with a focus on ecology, evolution, and conservation. Since her freshman year, she has been working in Rocap's lab at UW's School of Oceanography studying marine microorganisms and viruses. In the future she hopes to attend graduate school and continue researching.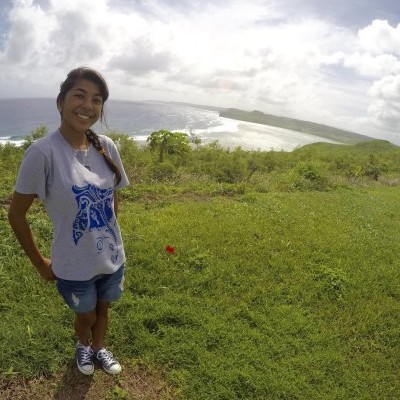 Leilani Sablan
Intern
Jacques Cousteau once said, "The sea, once it casts its spell, holds one in its net of wonder forever." For this particular eighteen-year-old, the sea's spell has her completely captivated. After taking marine biology at George Washington High School during her senior year, she grew a passion for marine life that only continues to thrive each time she slips into the ocean. It is no surprise then when she says that her dream is to become a marine biologist focused on field research and ocean conservation. We live on a finite planet, and Leilani seeks to not only be a part of research to explore marine life but also part of the efforts to protect it. Being born and raised on Guam, Leilani has grown to understand the need for local scientists. Guam is a tropical paradise surrounded by a world that is unlike any other, yet we know so little about it. If not for marine biology class, life in the ocean would still be unknown to her. This led her to realize that there is still much more to be done, such as establishing outreach programs, to let all of Guam learn about our tropical waters. Leilani believes that by targeting the youth of Guam, we can gather young, aspiring scientists that possess a drive to learn about the world below the surface. Leilani wishes to share her passion for the ocean to the students and community of Guam in hopes that they, too, can develop a sense of love for the ocean that sustains life on our island. By being a part of the Micronesian Conservation Coalition, she not only hopes to gain experience in field research, but gain the opportunity to inspire others with her passion for the ocean. Leilani is a current biology major at the University of Guam. You can find her at the beach almost every weekend, somewhere below the surface in a world of fins and gills.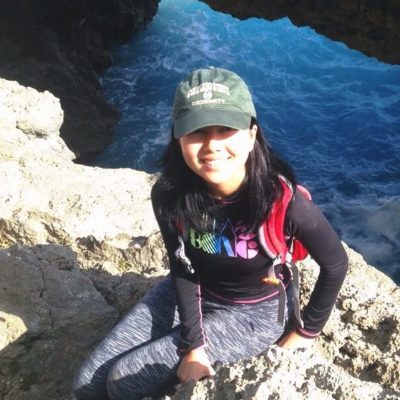 Natasha Hagans
Intern
As a child, Natasha always saw herself growing up to become a famous actress or singer. However, this all changed in her Sophomore year of High School when she watched "The Cove" in her Biology class, a documentary that exploits the mass slaughter of dolphins in Taiji, Japan. After watching this film Natasha's life changed forever. Instead of seeing herself in front of millions of people singing or acting, she now sees herself surrounded by the great variety of species that inhabit our oceans.
Natasha is currently majoring in Biology at the University of Guam in hopes to become a veterinarian specializing in aquatic animals. She hopes to be able to share her love for animals and the ocean while educating others to become involved in marine conservation.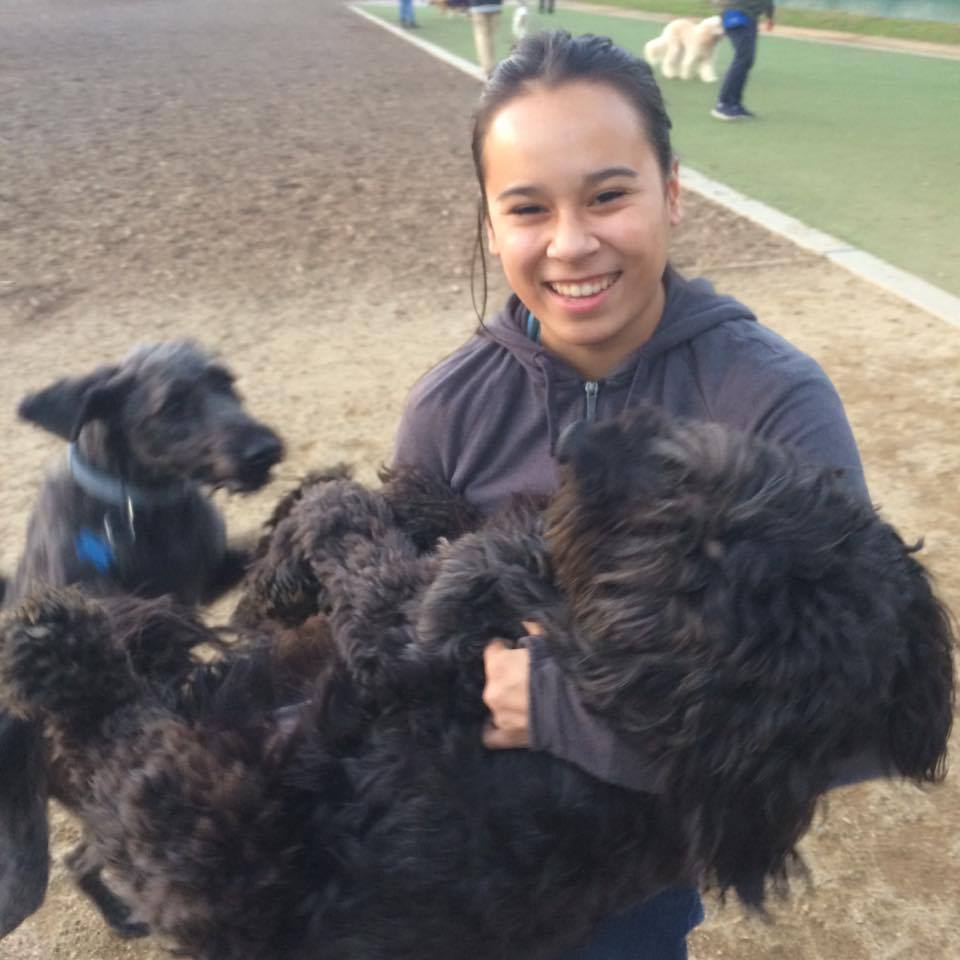 Kailea Wiese
High School Youth Ambassador
Kailea was born in Guam and grew up in Central California. She strived for environmental efforts from the start whether it was recycling, or riding her bike to school. After moving back to Guam she found more appreciation for the ocean and the creatures in it. She interned at UnderWater World and continued her passion for the environment, during the summer in husbandry. Now, she is excited to start as the MCC's Youth Ambassador. Kailea is currently a student enrolled at St. John's School, and hopes to become a researcher in the field of biology.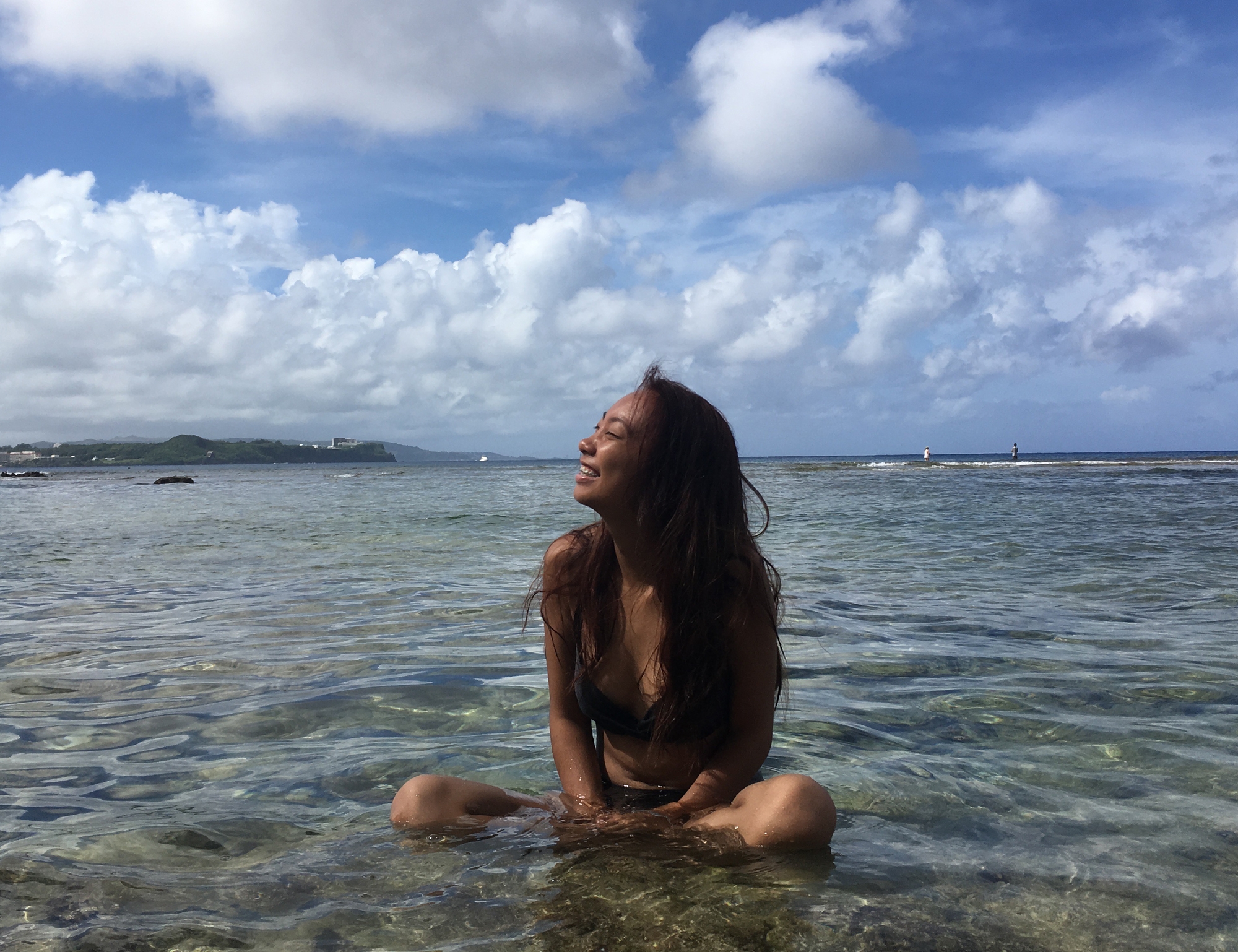 Christen Dimalanta
Intern
Christen used to squirm at any mention of Biology. She even went so far so as to say that it was the subject she wanted to avoid for the rest of her life. But this all changed when she watched a video on the death of coral reefs. She realized that it wouldn't be long before all of earth's reefs were pronounced dead, and that only humans had the power to prevent this from happening.
Christen is now majoring in Biology at the University of Guam in hopes to become a marine biologist specializing in reef conservation, taking a completely different turn from her previous views. She is also an avid writer, and she uses her passion for words to help spread awareness on the importance of marine conservation. When she is not out in the ocean, she is out writing away on the beauty it holds.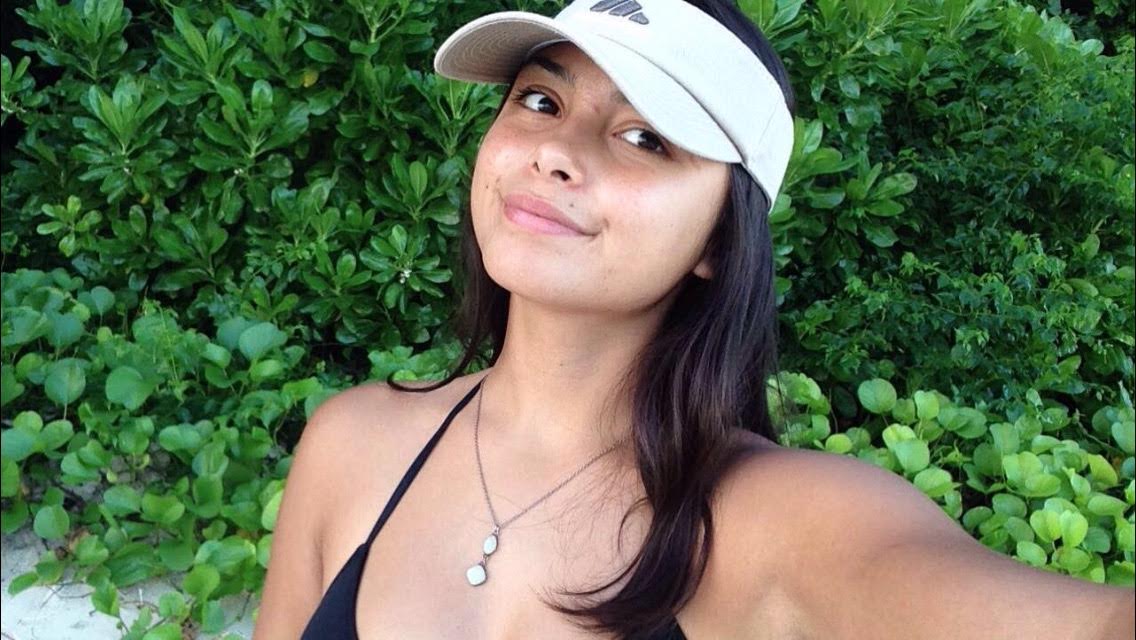 Jasmin Rotan
Intern
Whether it be Italy's pristine Mediterranean waters, Florida's Emerald Coast, or even California's frigid Pacific Ocean, Jasmin has always lived by the coast. Growing up she has always been willing to step out of her comfort zone to experience new things and meet new people. In May of 2016, Jasmin moved to Guam where she embarked on one of the most important and profound journeys of her life where she finds herself constantly learning and gaining a new perception of the world around her. Since moving to Guam she has participated in a summer REU program where she spent most of her days kayaking along the southern rivers of Guam collecting sediment samples as well as surveying marine life in Tumon Bay. During this REU experience, Jasmin fell in love with the island and became eager to explore all that it has to offer. By joining MCC she hopes to make a difference in her new community and educate others on the importance of subjects like environmental and marine life conservation. She is currently pursuing her Biology degree at the University of Guam and later hopes to become a Medical Diving Officer in the United States Navy. When Jasmin isn't hitting the books, you can often find her hiking, snorkeling, or practicing her free diving skills.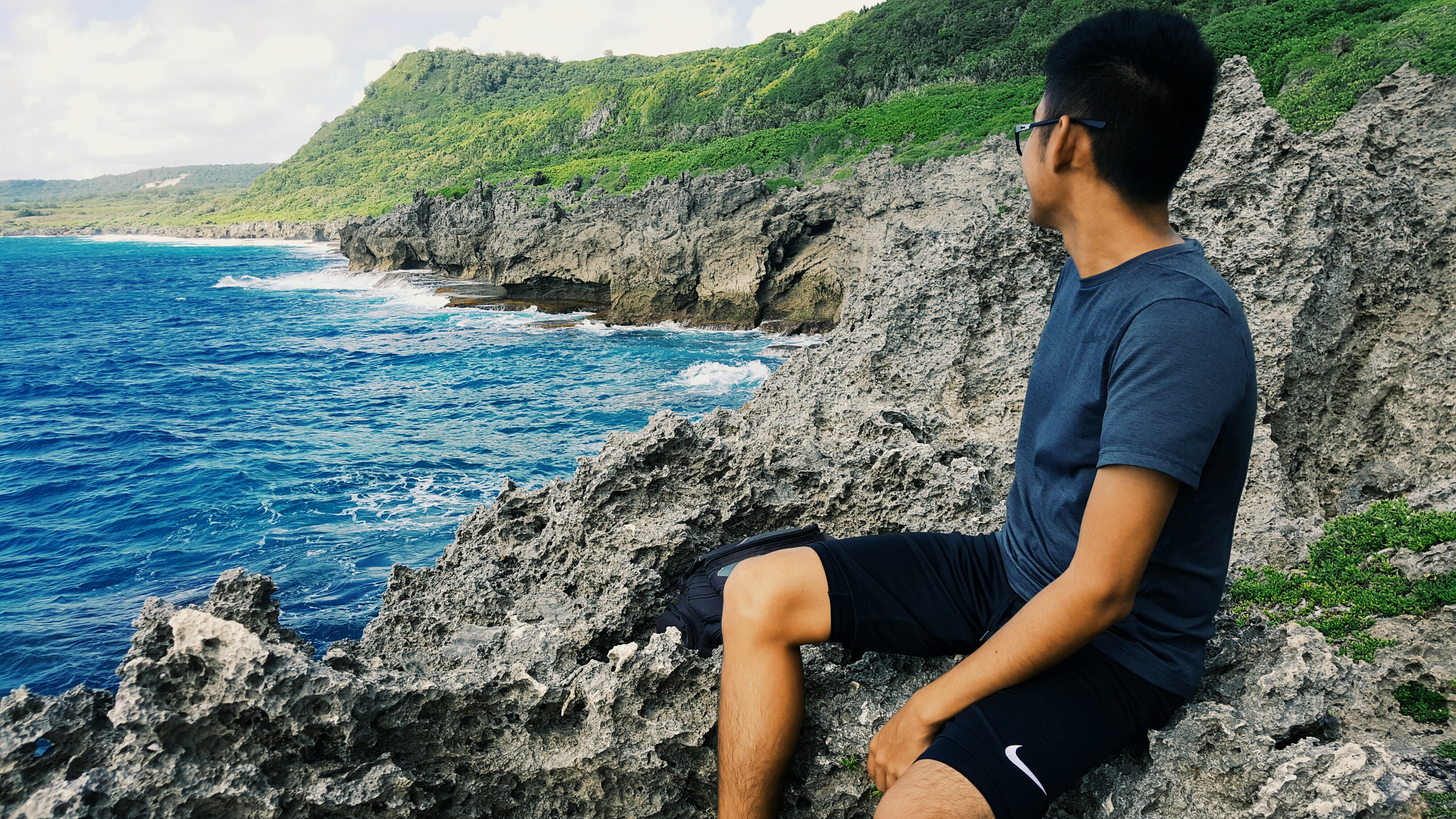 Vince Fabian
Intern
Despite being on this beautiful island since he was three, Vince did not know anything about the vast body of water that surrounded him or the magnificent world that lied underneath. All of that changed after he took a marine biology class in his senior year of high school. At first, he was only exposed to textbook definitions of the importance of marine life, but after snorkeling for the first time and seeing the magic happen right in front of his eyes, he realized that the organisms that inhabited this underwater realm were not just scientific names and facts. Each and every organism had its own personality as well as its own role in the ecosystem. Since then, he has adopted various conservationist habits and currently aspires to become a science teacher in hopes that he will encourage future generations to realize the importance of caring for our environment.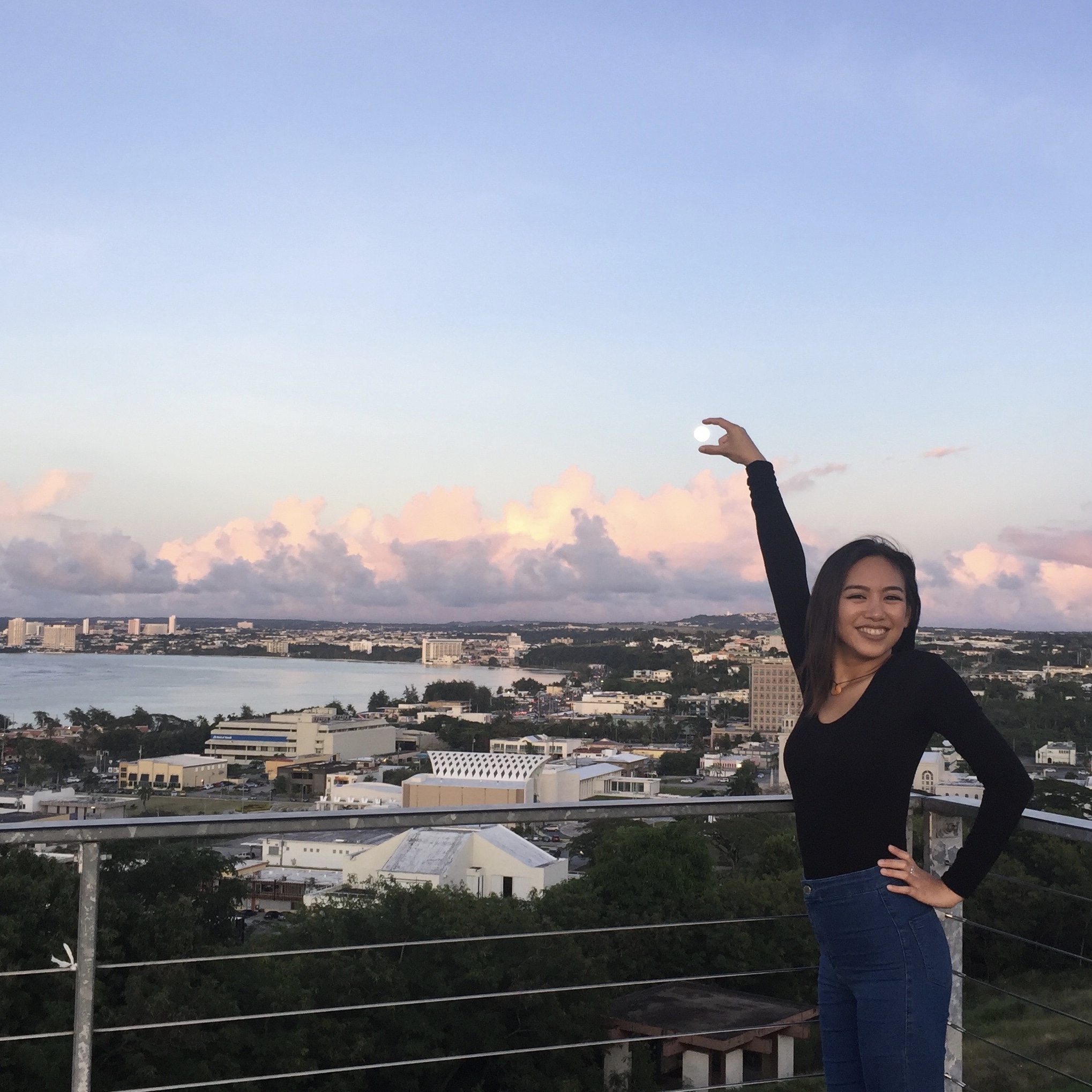 Camille Quichocho
FISSH Team
When Camille isn't watering her garden, in tree pose, or practicing her duck dive, she's probably preaching to someone the negative effects of what we have normalized, like single-use plastics and fossil fuels as a source of energy. She wasn't always an environmental activist, though.
Camille is an Agriculture major and Biology minor at the University of Guam with the goal of becoming a sustainable agriculturist or environmental scientist. Switching to Agriculture from a Business major was inspired by her love for Guam, CHamoru culture, the ocean, and two very challenging semesters of Economics. There will never be a moment that she does not want to learn something new about the island she grew up on, so she is excited to be taking the reigns alongside the MCC team to do research on the species that inhabit the waters of Micronesia.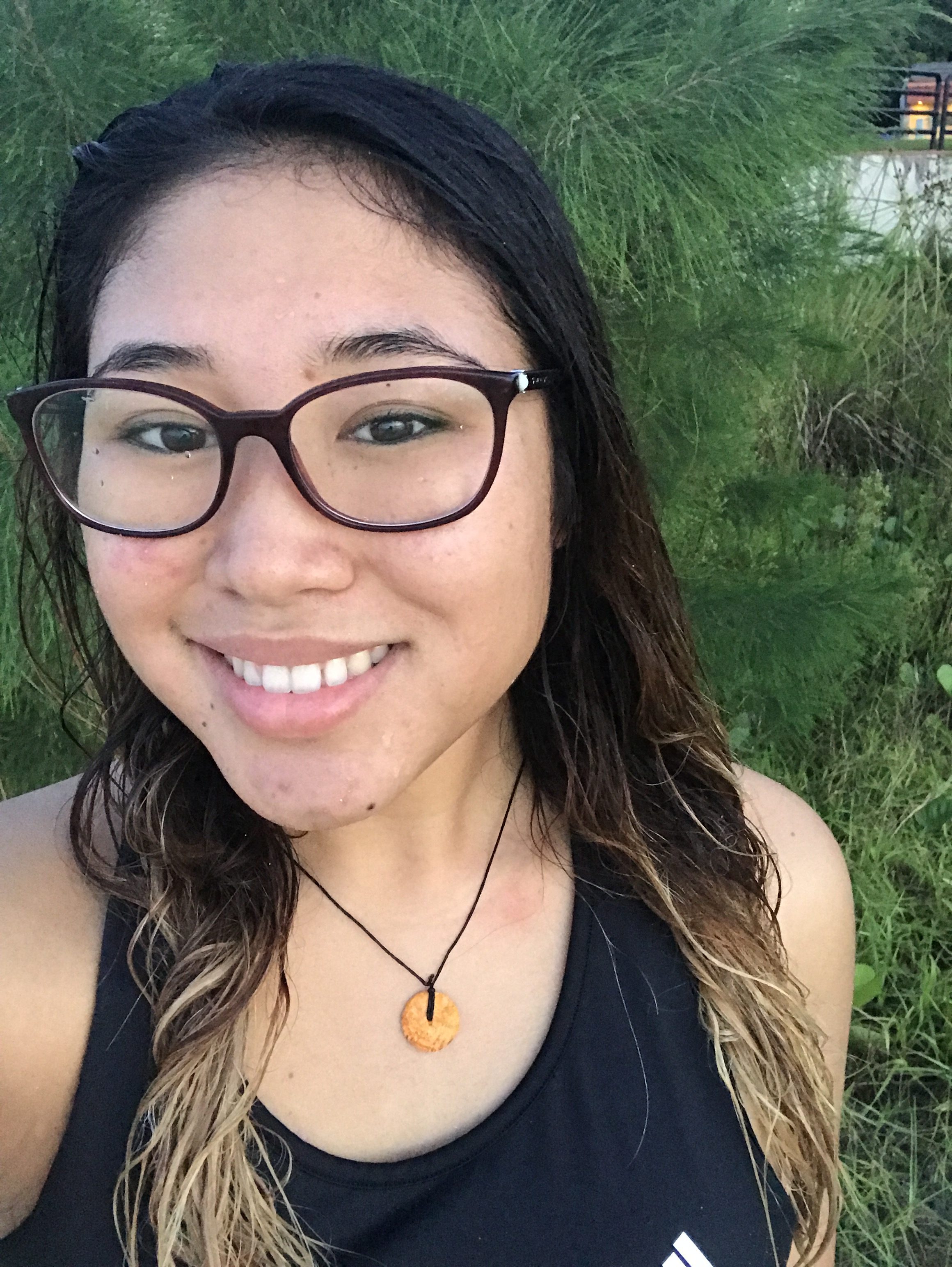 Madison Duenas
FISSH Team
Madison's love for the ocean and all its creatures started at a young age when she first stepped into Guam's tunnel aquarium, UnderWater World. Entering this magical yet unfamiliar world was the first breathtaking moment she had experienced. Watching the divers swim with the magnificent creatures of all shapes and sizes was something that really caught her attention. From that day on, she has been extremely fascinated with all things dealing with the ocean and spends a great deal of her free time snorkeling and free diving. Today, Madison is majoring in Biology and hopes to one day become a marine biologist. She seeks to learn all that she can to protect the incredible creatures and maintain the beauty of the ocean so that future generations can appreciate and love the ocean as much as she does.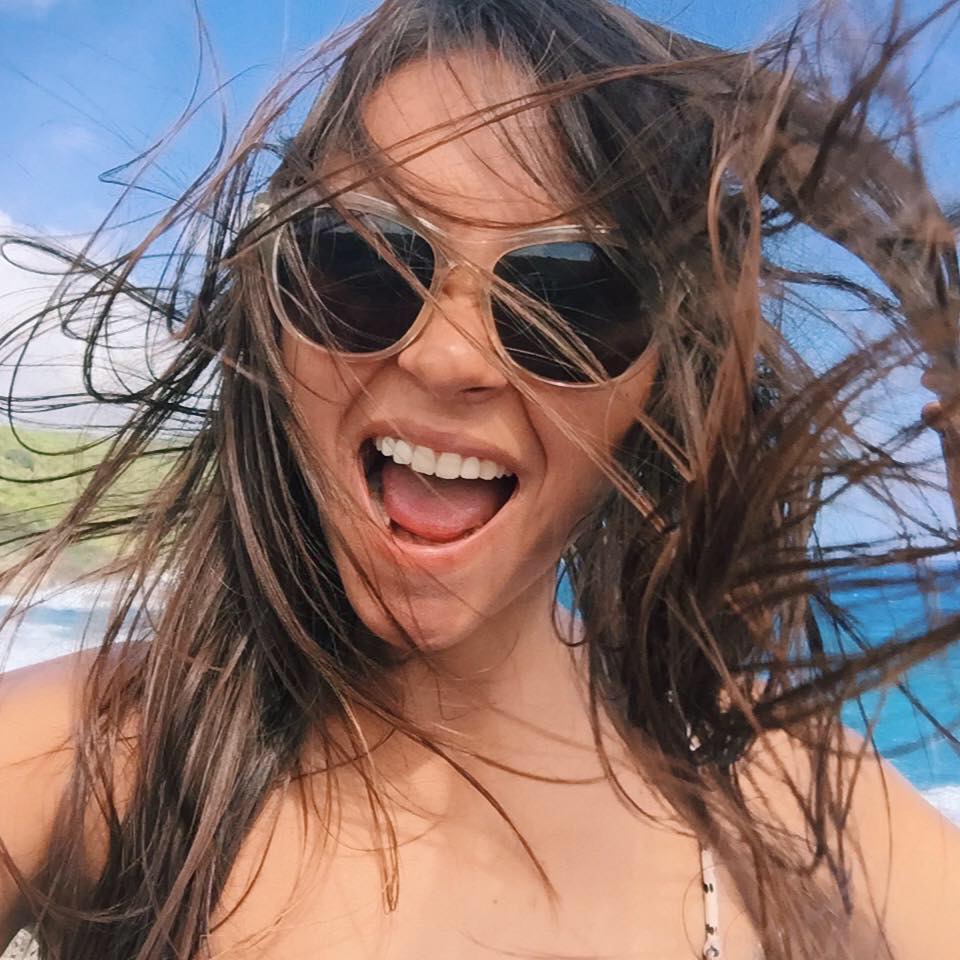 Zia Crytser
FISSH Team
Zia Crytser is an undergrad at the University of Guam, majoring in Biology. As a youth she spent many hours outside enjoying nature with countless hours on her father's boat. Not much has changed today except now she has a deep yearning to give back to nature for all that it has provided to her; aspiring to use her degree as a tool to begin a career in marine conservation. During her free time you can catch her in the wild – hiking, snorkeling or scuba diving.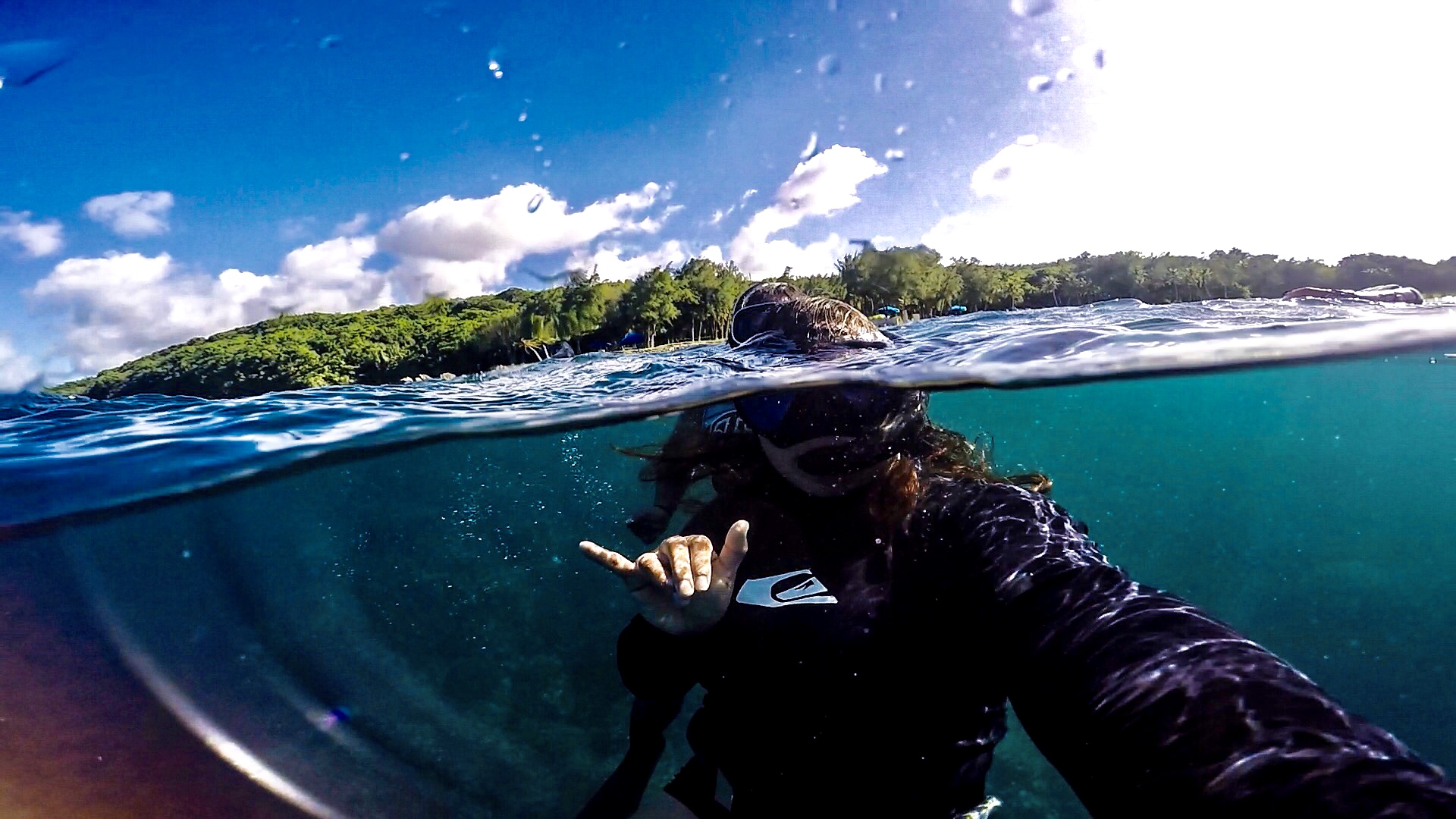 Tatiana Talavera
FISSH Team
Tatiana is an undergrad at GCC certifying to become an Environmental Technician. Her love for the ocean is deeper than the Mariana's Trench. She cannot part from the ocean for more than a week. 

Her passion as a spearfisher woman has opened her eyes much more to conservation. As much as she loves fishing to put food on the table, she also loves saving the livelihood of beautiful reefs and the marine life there. Her knowledge of the ocean and the marine life grow each and every day. Tatiana loves exploring new places above and below the surface. During her free time, she goes spearfishing, free-diving, hunting, and much more!