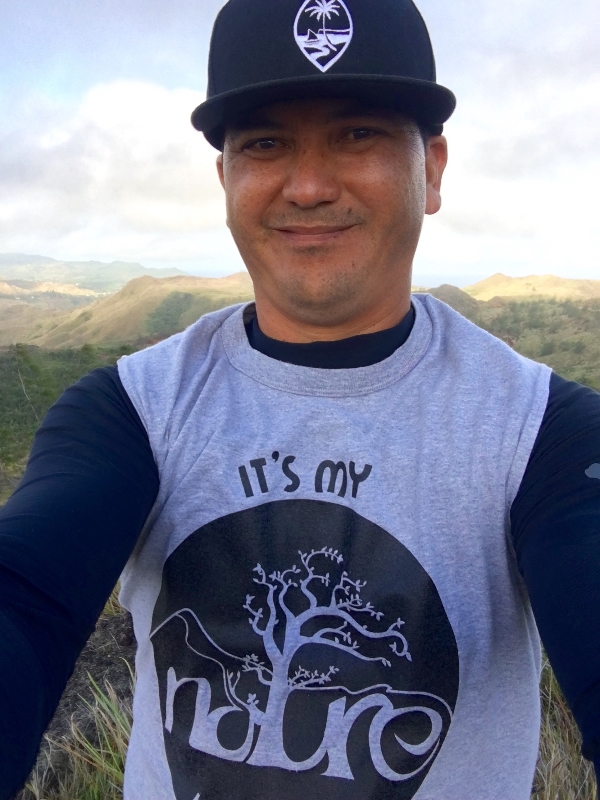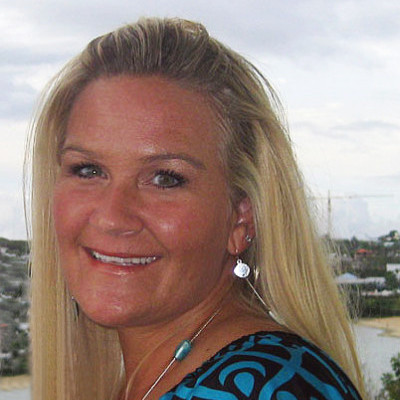 Julie Hartup
Founder & Director, Executive Scientist & Board Member
Julie obtained her degree in Zoology from Brigham Young University and was a research diver and teaching assistant for their marine biology program held at Hopkins Marine Station in Monterey California. Julie completed several internships at the Monterey Bay Aquarium in Water Quality, Visitor Presentations, and Tuna Research Center. After moving to Guam in 2007 with her husband Dr. Jason Hartup and four children. Julie began working on her master's degree at the University of Guam. Julie came across a new undocumented feeding behavior of the reef manta ray, targeting reef fish spawning aggregations to feed off fish eggs. Julie trained in the Maldives with the international NGO Manta Trust Founder Guy Steven, and later became Manta Trust Project leader for the Federated States of Micronesia, and the Marianas Islands. Julie is also a board member and scientist for Hawaii Association for Marine Education and Research. Currently, she has expanded her area of study on manta rays throughout Micronesia such as: Northern Marianas, Yap, Outer islands of Yap-Ulithi, Pohnpei, and Marshall Islands. Starting in 2015, Julie Hartup along with follow scientist Jennifer Cruce created Micronesian Conservation Coalition with extensive help and assistance from Whitney Blandford and Carlotta Leon Guerrero, co-founder and Director of Ayuda Foundation.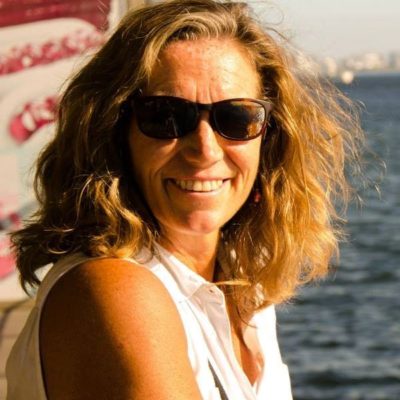 Belinda Baird
Operations & Administration
Belinda grew up in Nova Scotia on the east coast of Canada. What's written on their license plate is "Canada's Ocean Playground"! She took that literally and figuratively. She loves being in and on the water whether it's racing in sailboats or exploring under the waves in scuba or snorkel gear. Belinda has had the good fortune of marrying a man who has taken her to live in wonderful places to be able to do this in various waters around the world. With moving around with her husband she has had the opportunities to work with various people and organizations. Always looking for a way to give back in an enjoyable and rewarding atmosphere that is connected to what she believes in and enjoys. Belinda has certainly found that on Guam and with the Micronesian Conservation Coalition.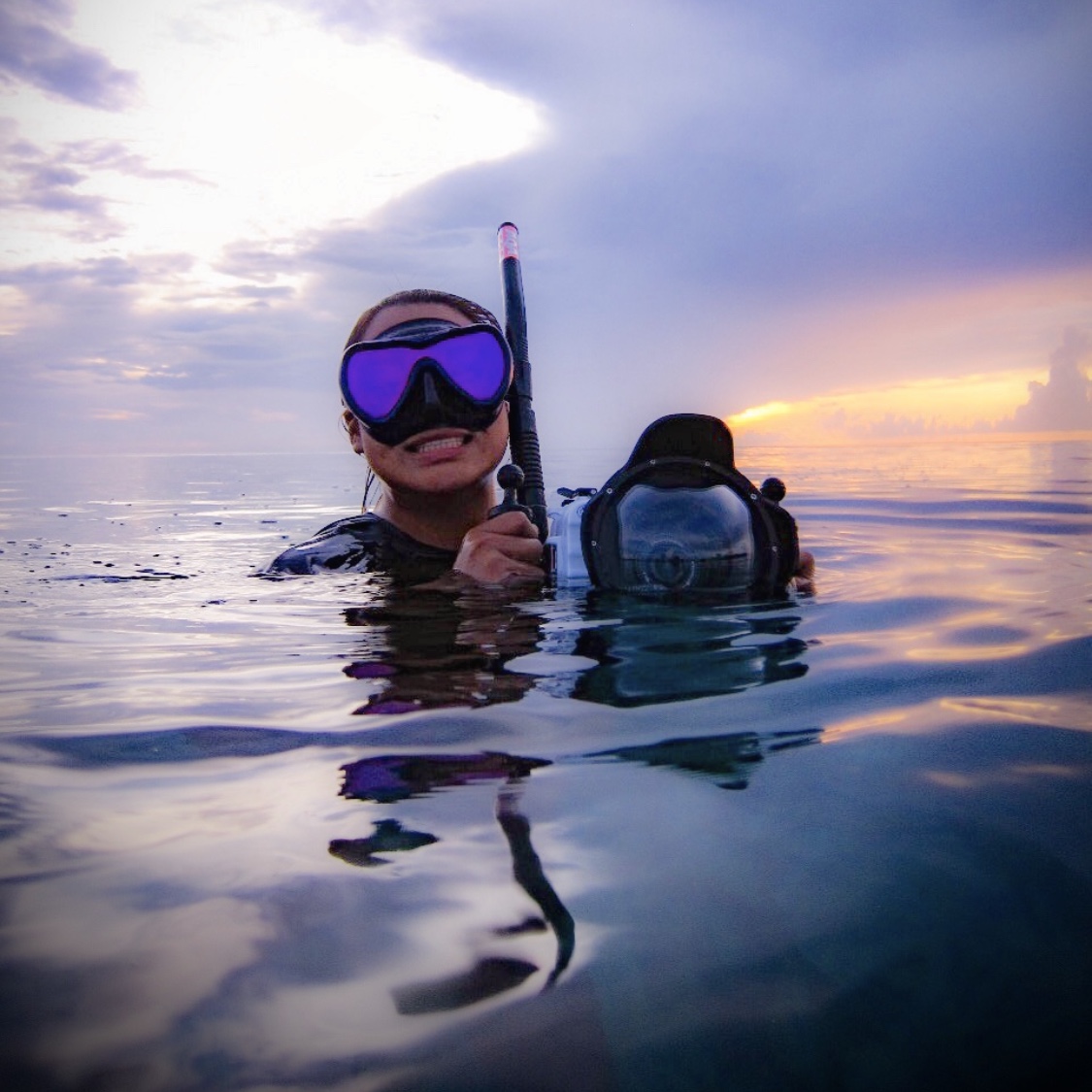 Tatiana Talavera
Social Media Director; Manta Project Assistant Researcher
Although Tatiana has already achieved a certificate in Environmental Technician at the Guam Community College, she has returned to GCC to achieve an associate's degree in Visual Communications. With her degree, she aims to promote marine conservation for her island and neighboring islands. Her love for the ocean is deeper than the Marianas Trench. Her passion as a fisherwoman has opened her eyes to conservation and sustainable fishing. As much as she loves fishing to feed her family, she also loves saving the livelihood of the beautiful reefs here. Her knowledge of the ocean grows each and every day. Tatiana loves exploring new places above and below the surface.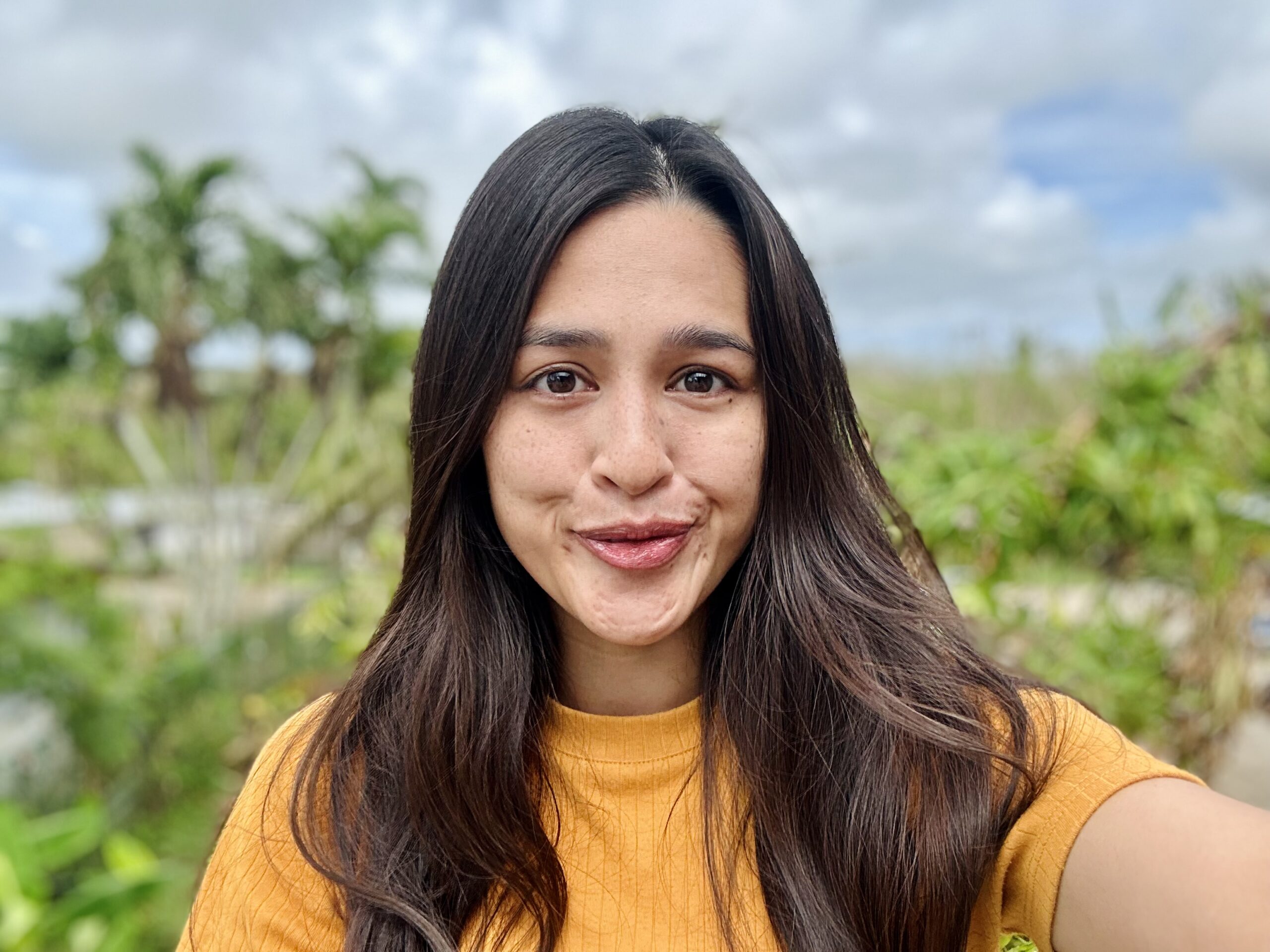 Danica Flores
Finances & Accounting
A born and raised Guam native, Danica resides in the village of Talofofo with her 9 year-old son Jeremiah and his dad John. Danica attended the University of Guam and earned her Bachelor's of Business Administration in Accounting in 2016. Whilst attending UOG, Danica interned with the Office of Public Accountability and was a member of the Association of Government Accountants. After graduating, she joined Ernst & Young, LLC as a Financial Assurance Staff and was later promoted to Assurance Senior in 2018. With EY, Danica both assisted with and led the audits of several major corporations on Guam, specializing in the hospitality and insurance industries.
After much thought and consideration, Danica left EY in the fall of 2019 to focus on her family and other career pursuits. Since then, Danica has worked for several clients, both for- and non-profit to achieve their accounting and financial goals. Danica began working with MCC, Belinda and Julie in 2021 starting with an internal financial review and then stayed on to continue assistance with MCC's accounting and financial administration.
Working hand-in-hand with Belinda and Julie has been and continues to be an enjoyable, rewarding experience in which Flores is excited to carry forward. Biba MCC!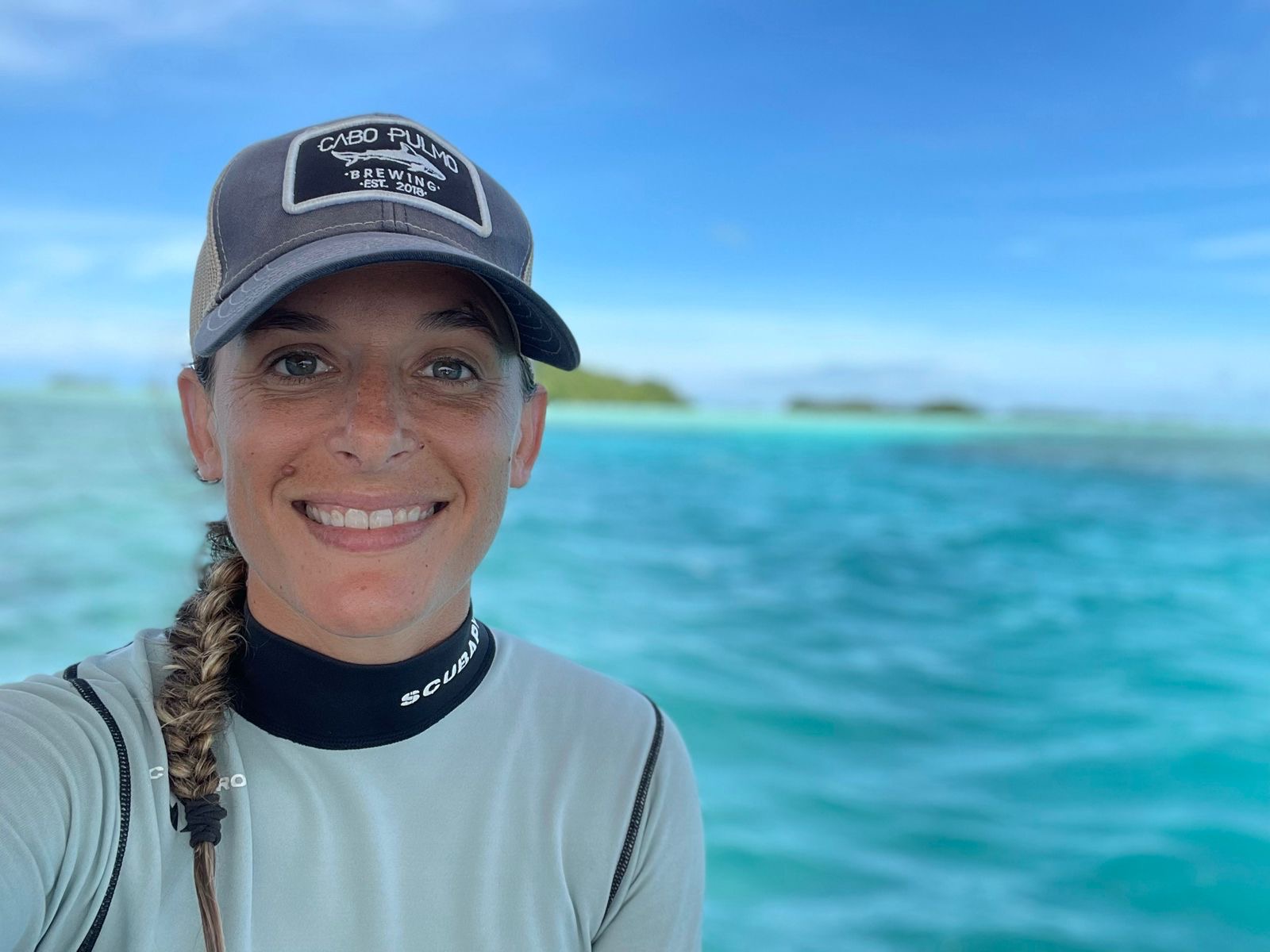 Ginger Carter
Dive Safety Officer
Ginger Carter
Ginger grew up in sunny Southern California. She developed a love for the ocean at a young age, but saw it more as a recreational passion than as a possible career path. She obtained her B.A. in Business Administration and worked as a restaurant manager, meanwhile always trying to think of what was her true calling in life. On a whim, she decided to leave everything behind and become a scuba instructor. She completed her dive training in Costa Rica and then spent the next couple years working as a Dive Instructor in Cabo San Lucas, Mexico. There she had the opportunity to work on a liveaboard boat, guiding tours to the Archipelago of Revillagigedos. Meanwhile, she developed an interest in marine science and conservation and began looking for ways to combine this interest with her scuba career. Her next move was to Michigan to live with her husband, where she worked with U.S.G.S. as a scientific diver studying algae in the Great Lakes. After 3 difficult years away from the ocean, she moved to Guam with her husband to work as a Coral Restoration Technician at the UOG Marine Laboratory. Ginger still teaches scuba on the weekends and works with MCC when she has free time! She enjoys every moment in the water, and loves sharing her passion for the ocean with others!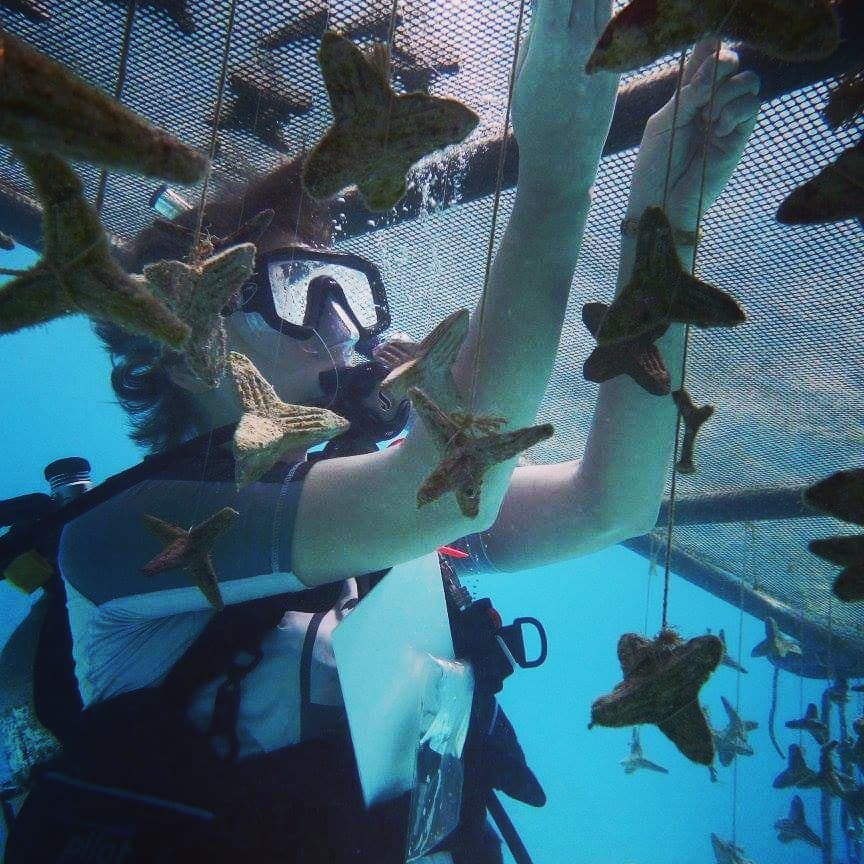 Jenifer Burney
Webmaster
I have been passionate about sharks and the ocean since I was a small child. I always knew I would grow up to be a marine biologist, and in 2011 I traveled to Fiji for a Shark Behavior and Conservation field course. There I was able to study and interact with bull sharks and reef sharks in the wild, further solidifying my desire to participate in ocean research. In 2012 I graduated from North Carolina State University with a B.S. in Zoology. I moved to Guam in 2014 after accepting an Aquarist position at Underwater World Guam. There I was able to meet with biologists from all over the globe while advancing my skills in scuba diving and my knowledge of marine biology. I now live in Southern California outside of LA, working at the Aquarium of the Pacific as well as at the Moore Institute for Plastic Pollution Research. In my free time I am an amateur photographer, hiker, diver and avid reader.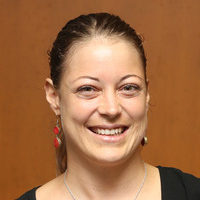 Maria Kottemair
Marine Team
Maria Kottermair is a certified Geographic Information Systems (GIS) Professional and has applied that expertise on Guam for over a decade. She holds a B.S. in Cartography from the Munich University of Applied Sciences and a M.S. in Environmental Science from the University of Guam. 
Lately, Maria has combined her love for GIS and islands by expanding scope to other locales in Micronesia, notably the Outer Islands of Yap. Though Maria loves the ocean and all its creatures, mantas have always fascinated her especially. It was through assisting with Founder Julie Hartup's graduate field work that a strong partnership was formed. Building on their shared passions and strong mutual commitment to the conservation of our local environments, Maria joins Julie and Micronesian Conservation Coalition as their GIS Specialist.
Deane Jessee-Jones
Board Member
Deane Jessee-Jones moved to Guam in 1991, when she married her college sweetheart, Jay.  Together they have 3 kids and have spent the last two decades enjoying life in Guam and Saipan.  Deane works as an Adjunct Social Science Instructor at the University of Guam and as an Educational Therapist providing testing and consulting services for children with learning weaknesses.   Deane has always loved nature and all the creatures on land and in the water.  It is no surprise that she would want to protect the Micronesian Islands and make sure all islands are as beautiful and flourishing in the future as they are today.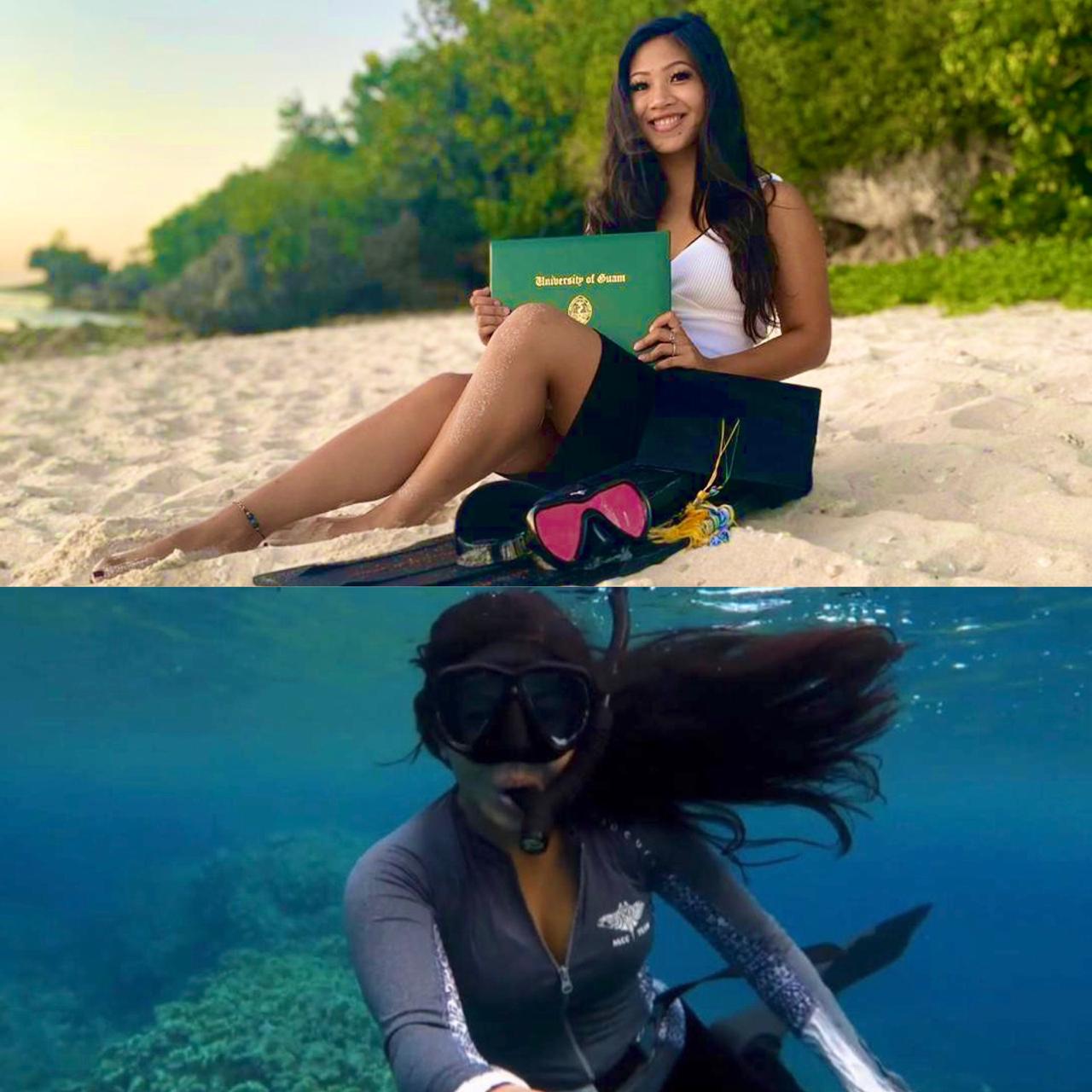 Ashley Castro
Marine Team
Ashley is an avid diver always jumping into opportunities to explore the ocean. With a B.S. in Biology at the University of Guam, she is determined to pursue future studies in ocean conservation in the local region and hopes to expand her efforts further. Her goal has always been to instill the love of the ocean and awareness into people's hearts. Having learned about the valuable resources our ocean has economically and aesthetically, she hopes to help the community recognize that we are in the midst of a delicate gem. Though saving the planet seems impossible, she aims to help restore it one step at the time. Ashley continues to work with MCC to reinforce community connections to the true value of what the ocean provides and to preserve cultures and natural resources. As a Marine Team Member and Board Member, she is dedicated and always ready to jump right in. i guinaiya-ku. i minetgot-hu yan i fuetså-ku i tåsi. (my love, my strength, and my power is the ocean)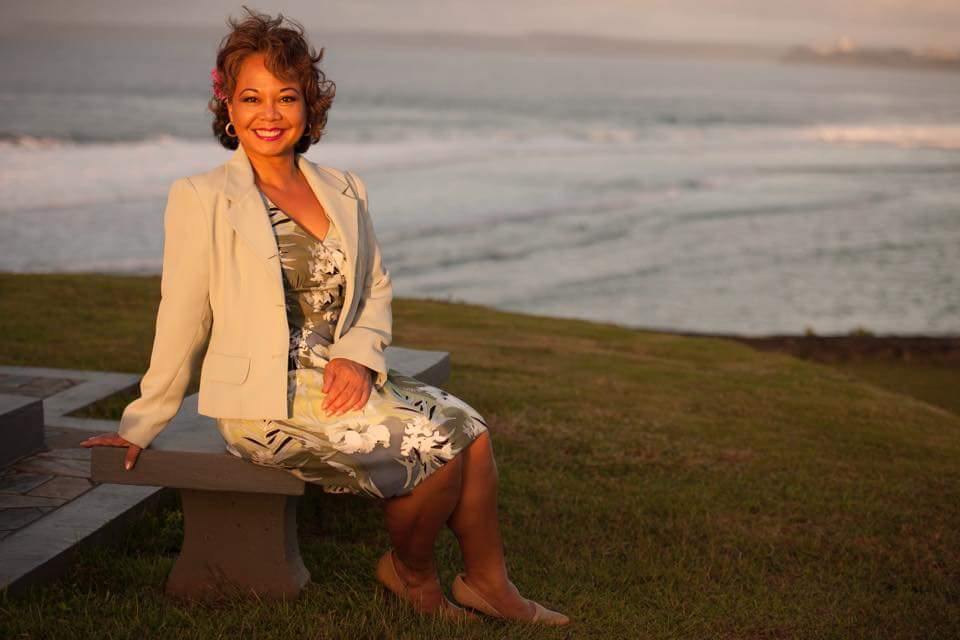 Sam Mabini
Board Member
Dr. Sam Mabini is an avid scuba diver and an advocate for our blue planet and wildlife.  Her career has been in the area of Career and Technical Education and workforce development reform locally and nationally.  She received her Ph.D. in Work and Human Resource Education from the University of Minnesota.  Dr. Mabini was recently the Director for the Guam Department of Labor, and was previously the Provost at the Pacific Islands University, an adjunct Associate Professor with University of Maryland University College, and Associate Dean at Guam Community College.  She was a Senator in the 31st Guam Legislature (2010-2012), working diligently on initiatives in education and workforce development to improve and enhance the livelihood of Guam citizens. Dr. Mabini also serves on the board of the Guam Symphony Society and Guam Association for Career and Technical Education, and co-hosts a Saturday community radio talk show.  She is currently a postdoctoral research fellow working at the University of Alabama.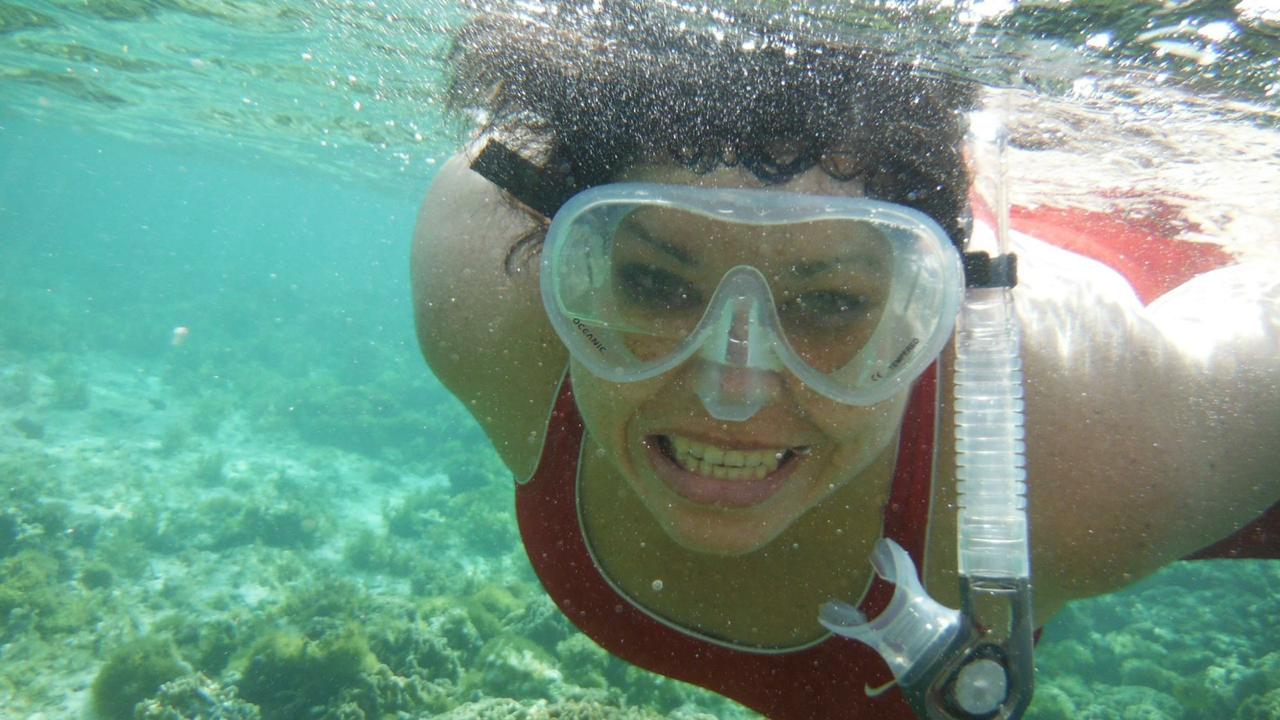 Karen Gayle
Board Member
Born during one of the most destructive typhoons to hit Guam and even named after her, Karen has always loved the power of water. Learning to swim at USO summer camps, joining the swim team as a teenager and then learning to dive at 14, the ocean has always been her playground.  Protecting it is a lifelong mission. 
Karen attended the University of California at Santa Cruz (off Monterey Bay) and majored in Biology.  She returned to Guam right after graduation and started diving again with a new appreciation for warm water! Diving trips to Palau, Saipan and Rota helped develop a renewed love for the underwater world.  Sadly, an eardrum injury has halted all underwater diving but that hasn't slowed her down. Snorkeling on the surface still allows her to enjoy all that the ocean has to offer.
"The ocean stirs the heart, inspires the imagination and brings eternal joy to the soul."  – Wyland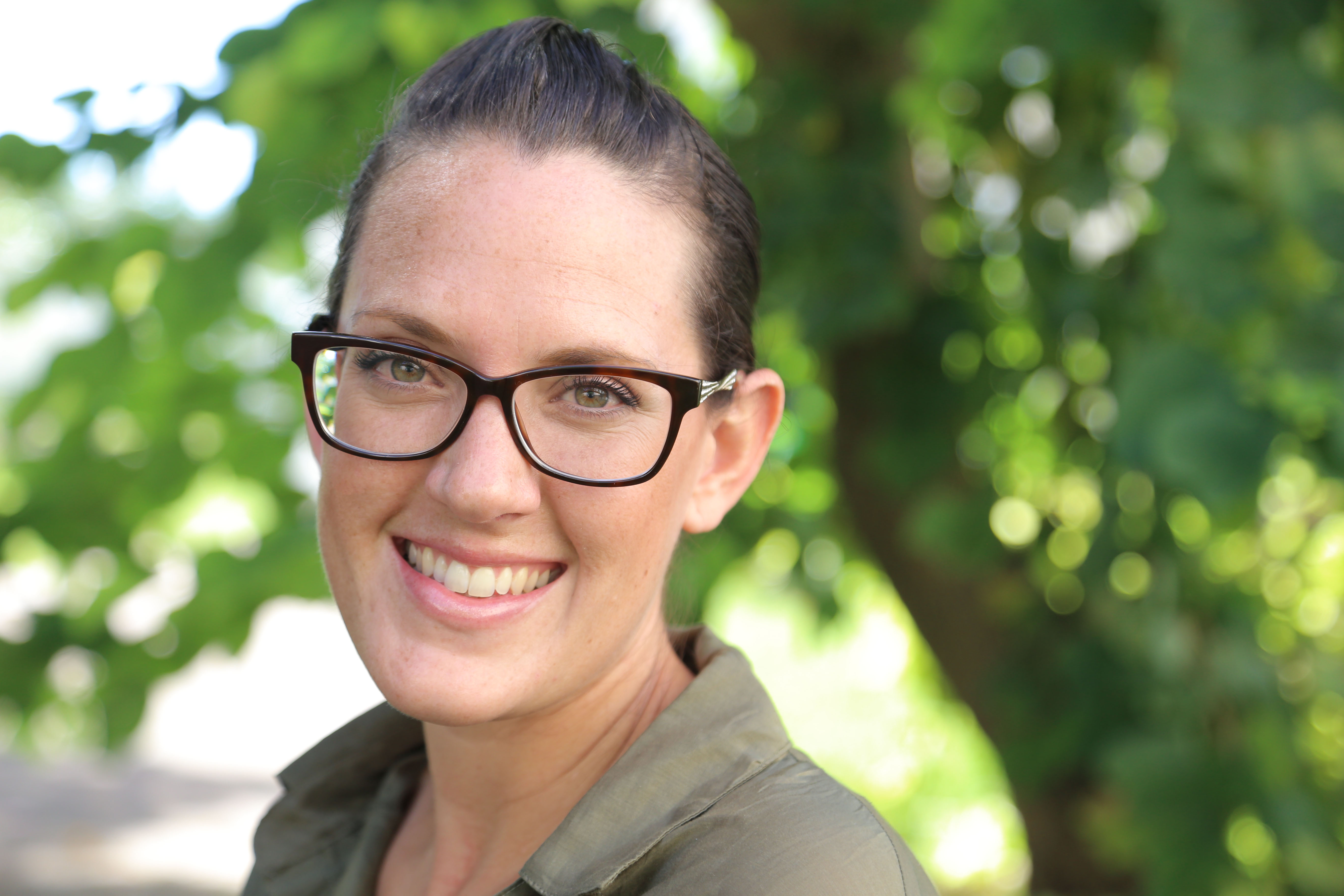 Laura Biggs
Board Member
In 2003 Dr. Biggs graduated Cum Laude from Manhattanville College in Purchase, NY with a B.A. in Biology and Secondary  Education. She then pursued my Ph.D. in Pharmacology and Toxicology from The University of Utah. During her time at University of Utah, she assisted in developing educational curriculum,  Let's Do Science, for K-5 classrooms that focused on hypothesis driven chemistry and also published a 35-page workbook to accompany in class efforts. In this role, she brought the curriculum to Guam, managed, and trained a staff of ten to implement the Let's Do Science education program on Guam reaching over 800 students in the 2008-2009 academic year.  In 2009, she then joined University of Guam with the Sea Grant Program and worked to develop educational programs and expand the program capacity on Guam. In 2013, she executed a year-long (4 session) professional development program for GDOE high school science teachers. In fall 2015, she joined the Biology program at The University of Guam. In this capacity Dr. Biggs teaches Anatomy and Physiology, Human Biology, Pharmacology, Scientific Arguments, Scientific Writing, and other courses as needed.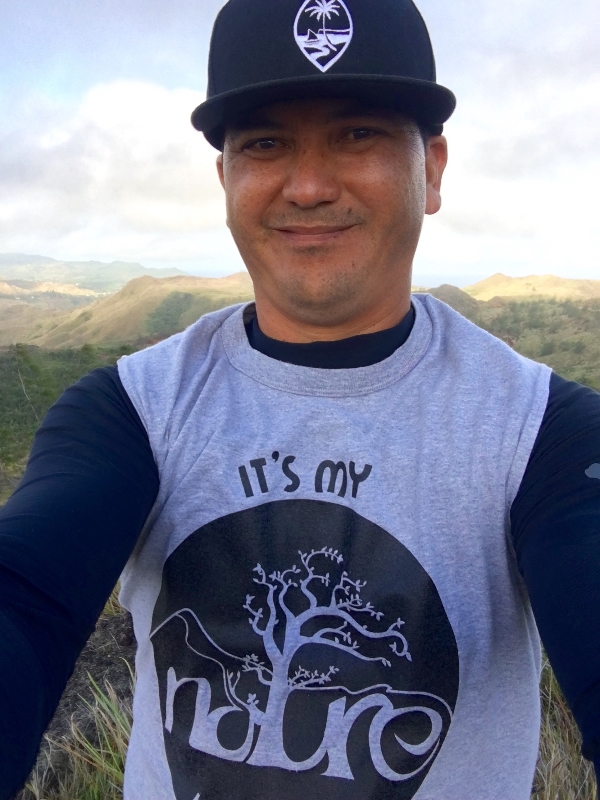 Jeff Quitugua
Board Member
Exposed to the island's natural resources at a very young age, Jeff was inspired to learn more about the biology of Guam.  After pursuing his education at the University of Guam, Jeff was employed with the Division of Aquatic and Wildlife Resources for a year before becoming a biology teacher at Benavente Middle School and George Washington High School.  He was a public school teacher for 4 years before returning back to being a field biologist.  As much as he loves sharing knowledge, working with the resources is his passion.  Having the opportunity to be a part of the development of the Micronesian Challenge and Conservation Action Plans, and native species recovery plans Jeff brings to the table the experience and the local knowledge of Guam's natural resources.  His goals in life are to spread awareness for the love of the resources for all to protect, promote, and preserve, and to inspire the new generation of future biologists.  Being active with the Guam Nature's Alliance and MCC will be a great vehicle to continue his passion and love for the natural resources and his island home… Isla Guåhan!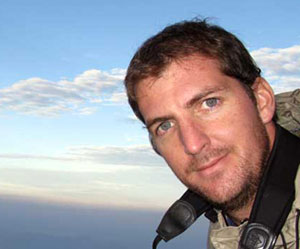 Guy Stevens
Academic Advisor
Guy has always been fascinated by the natural world, and growing up on a farm in the South West of the UK surrounded by nature provided him with a seemingly limitless supply of weird and wonderful creatures to discover. He always knew he wanted to make a career from studying animals, but it wasn't until he was given a tropical fish tank at the age of eleven that his passion for the underwater world began. From that moment forward when people asked him what he wanted to do when he grew up, he would say "I want to study fish!" So, true to his word he progressed through school and college with this in mind and in 2002 he graduated from the University of Plymouth with a degree in Marine Biology. University opened his mind to the rest of the world and he was hungry to travel and explore as much of it as he could. Visiting and diving in the Caribbean, Africa and Asia he knew he wanted to work in one of these tropical destinations, so in 2003 when he saw a job advertising for a marine biologist to work in the Maldives he knew it was the job for him. The Maldives is a marine biologist's paradise and it was in the Maldives that Guy had his first underwater encounter with manta rays. He was enthralled by these amazingly graceful and inquisitive rays and from that moment forward he has been driven by a desire to learn as much about them as possible. In 2005 he founded the Maldivian Manta Ray Project (MMRP) with the aim of helping to conserve this country's manta population through active research and education. His work with manta rays now takes him to other corners of the world, but the Maldives for him will always be the best place to see and study these amazing animals. Guy is now working towards the completion of his PhD on his manta research at the University of York in the United Kingdom. Guy's conservation efforts in the Maldives have led to the creation several Marine Protected Areas (MPA's) at key manta aggregation sites, most notably at Hanifaru Bay, where his work was featured in the National Geographic Magazine in July 2009. This amazing location, situated in Baa Atoll, was in 2011 also declared a core protected area within the newly designated UNESCO World Biosphere Reserve that encompasses the entirety of Baa Atoll. Guy and his conservation efforts have also featured in over a dozen TV documentaries; including a BBC Natural World Special, National Geographic Worldwide & ABC's "Project Manta", ITV 's "Man to Manta", Channel 4's "Big Fish Fight", 60 minutes Australia and the BBC's "How Life Works".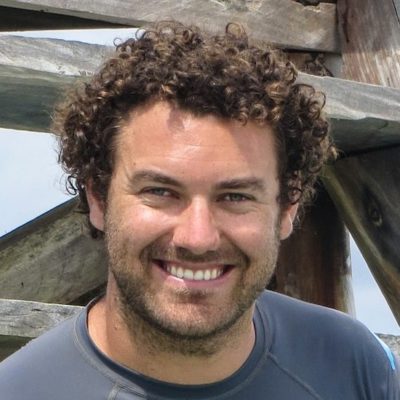 Dr. Steve Linfield
Scientific Advisor
Steve recently completed his PhD from the University of Western Australia studying depth refuge and the impacts of fishing on coral reef fishes. His previous research was conducted in Micronesia using stereo-video techniques for counting and measuring fish. He has recently been appointed as a fisheries researcher at the Palau International Coral Reef Center and will be doing fish surveys around Palau during this mission in order to provide data on the size structure and species composition of fishery targeted species.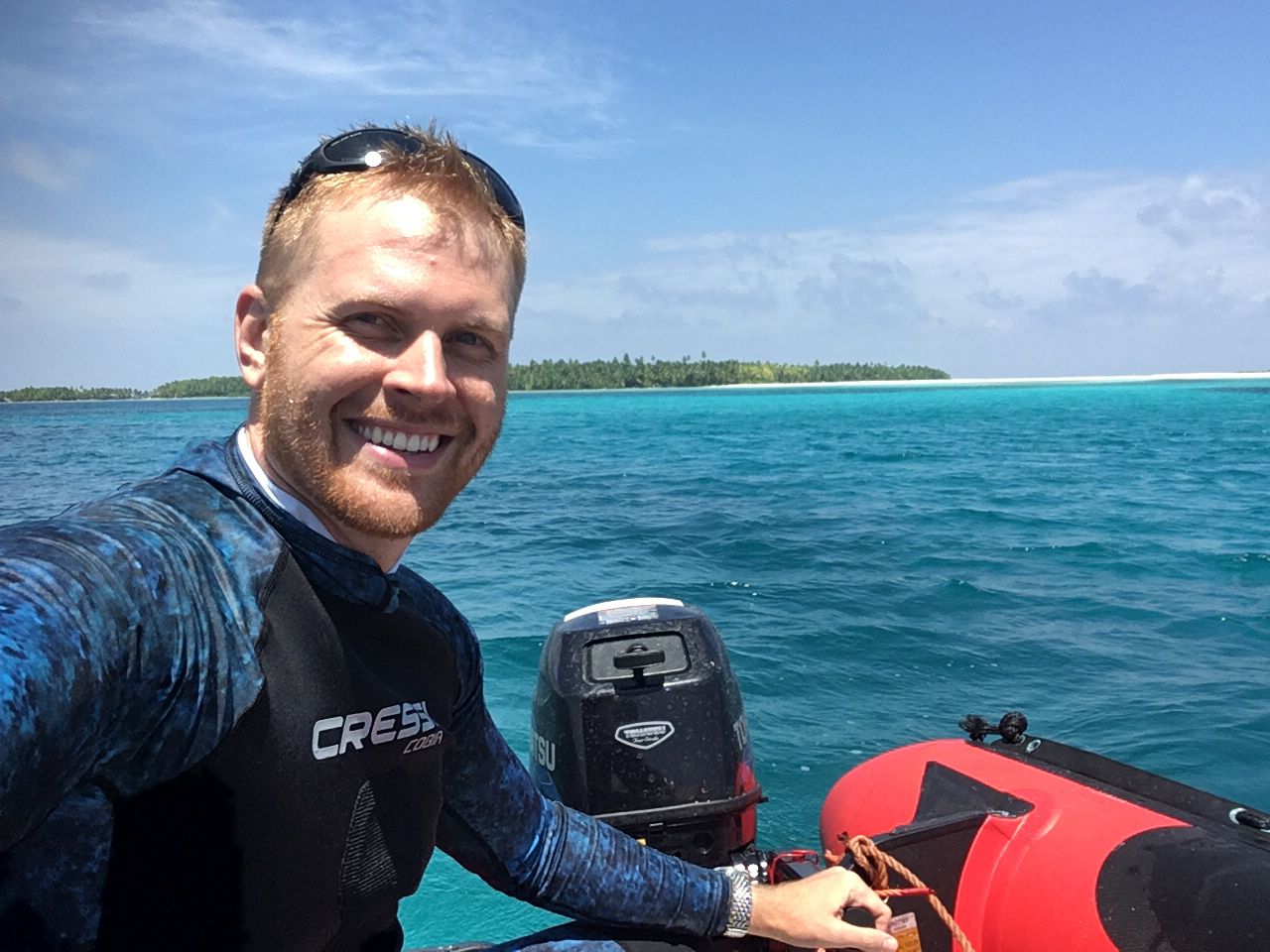 Brett Taylor
Scientific Advisor
Brett Taylor is an Assistant Professor of Fisheries Ecology at the University of Guam Marine Laboratory. Dr. Taylor has worked extensively on the biology and ecology of marine fish species and associated fisheries, primarily in the tropical Indo-Pacific. His research is firmly planted in highly field-based and quantitative approaches to address questions across many scales.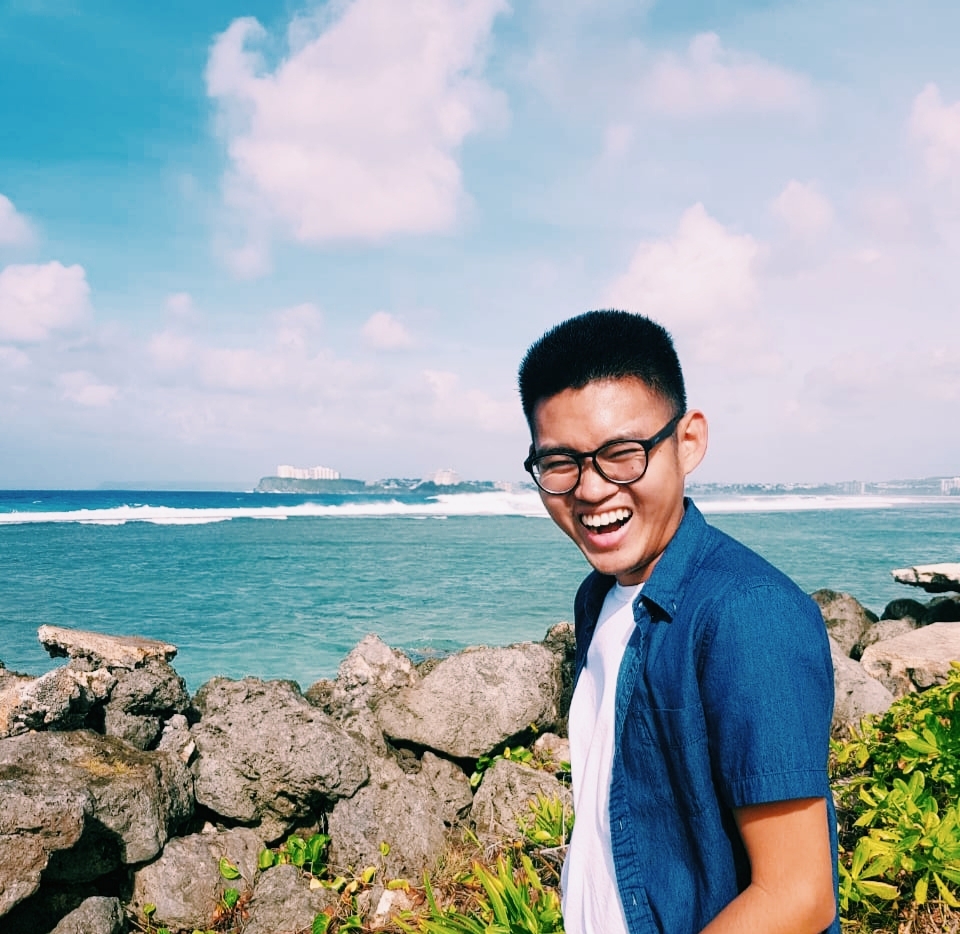 Vince Fabian
Marine Team Ambassador; Research Assistant
Despite growing up on an island, Vince spent most of his early years unfamiliar with the wonders of the ocean. It wasn't until his senior year of high school, when he enrolled in a marine biology course, that his interest in the field took root. After being exposed to the importance of marine conservation and participating in various immersive experiences such as hiking, snorkeling and community outreach, he soon realized they were activities he wanted to continue doing. In 2017, Vince joined Micronesian Conservation Coalition to further foster his love for environmentalism, science and education as well as surround himself with like-minded individuals.
Since then, Vince has cemented his beliefs in the advancement of public knowledge and action
towards scientific inquiry and conservation. Through the many activities he has partaken in during his college years such as marine research, advocacy and community engagement, he aims to dedicate his efforts in not only pursuing a career in conservation biology but also in developing a more accessible means of acquiring the same education for underprivileged islanders. He has learned to acknowledge the disproportionate exclusion of minority individuals in the conservation conversation and realizes that inclusion of diversity in thought and innovation may very well lead to a more sustainable future for the planet and its people.
Vince has recently graduated from the University of Guam with a Bachelor's of Science in Biology (2020). He is currently working on gaining additional field experience before applying for graduate school to specialize in ecological work within the Pacific Islands. He hopes that his endeavors will hone his skills in producing quality scientific work and plans to eventually return to Guam after receiving his PhD to help shape a more environmentally conscious community as well as provide opportunities for its citizens which are currently difficult for them to attain.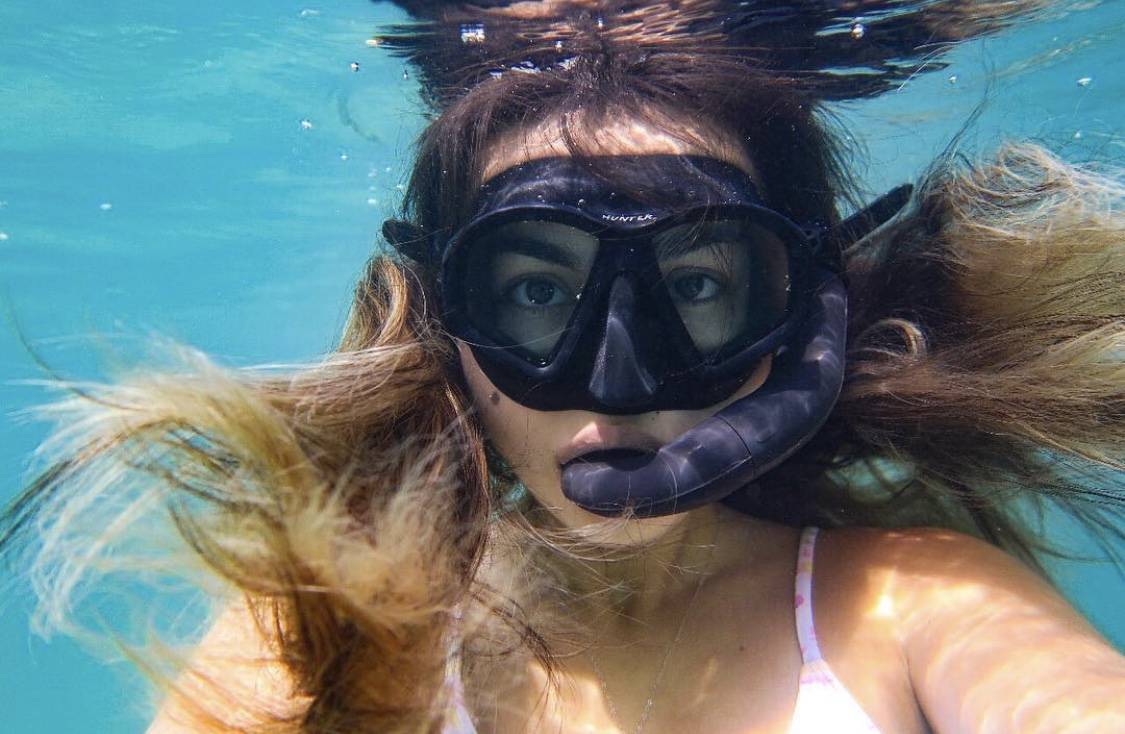 Natasha Hagans
Marine Team- Research Assistant
As a child, Natasha always saw herself growing up to become a famous actress or singer. However, this all changed in her Sophomore year of High School when she watched "The Cove" in her Biology class, a documentary that exploits the mass slaughter of dolphins in Taiji, Japan. After watching this film Natasha's life changed forever. Instead of seeing herself on stage entertaining millions of people, she now sees herself helping animals in need both on land and in the sea. Natasha has been a member of MCC since 2016 and loves sharing her knowledge and love for the ocean with others.
Natasha graduated from the University of Guam in 2019 with a bachelor's degree in Biology. She is currently working as a Sea Turtle Biologist through Seagrant and is working on her application to veterinary school. Natasha hopes to become a wildlife and exotics veterinarian with a specialty in marine mammals. She hopes to be able to share her love for animals and the ocean while educating others to become involved in marine conservation.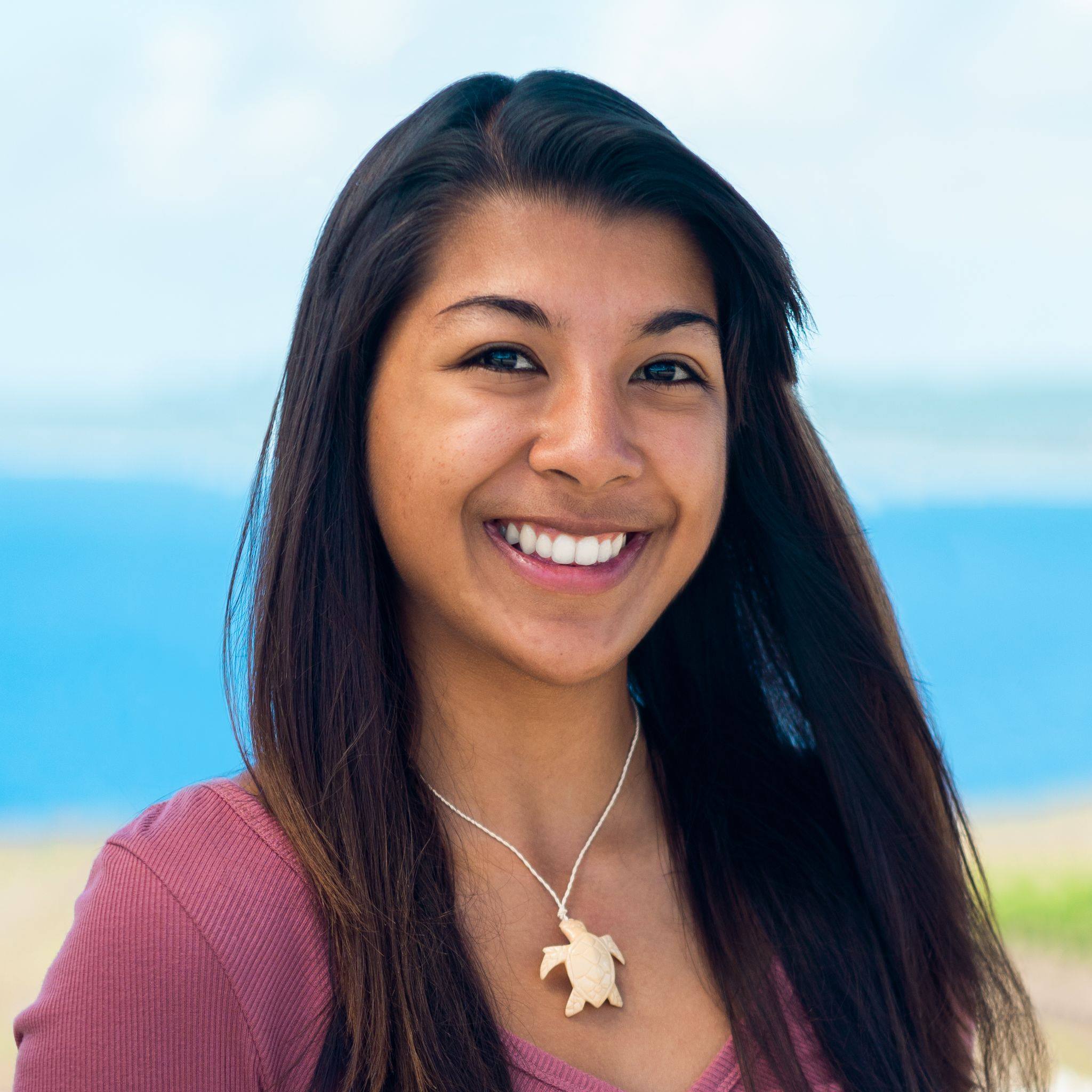 Leilani Sablan
Board Member
Leilani graduated with a BS in Biology at UOG in 2019. Since then, she has been working as a biologist researching endangered green sea turtles in one of Guam's largest nesting sites. 
Leilani spent her undergraduate career pursuing a career in marine science and chasing after experiences that would build her up as a local woman in science. In 2016, she participated in a summer research experience studying the unique feeding behaviors of Guam's manta ray population. Two years later in 2018, she spent 10 weeks at UH Hilo during the active lava flow researching water quality affects on reefs and the impacts of lava flow on water quality. 
Leilani will be continuing her education at UOG pursuing a MS in Biology with her thesis focused on green sea turtle nesting biology. Her aspiration is to inspire young local students to pursue careers in environmental science. No one knows our island's environment better than those whose ancestors dwell among it. Leilani believes that building local capacity in science is key to moving forward with conservation efforts of marine resources in Guam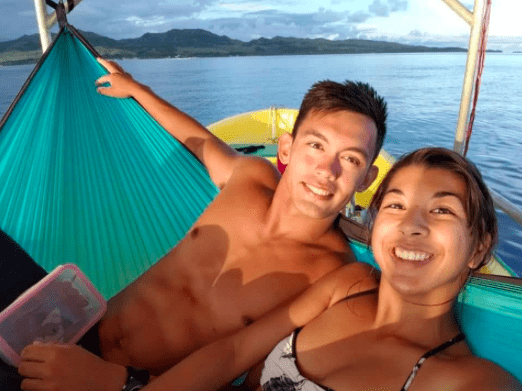 Will Naden
Marine Team
William Naden II was raised in the village of Malesso. His father was a captain and always owned a boat that he would take his son fishing on during his free time. William's dad taught him to treat the ocean with respect and dignity. Eventually, he would follow in his dad's footsteps and get his captain's license when he was 16 years old. At the time there were two grounded long-liner vessels on Guam, first in Apra Harbor and another in Coco's Lagoon. William operated a salvage boat during the removal of both vessels. He would spend many hours on the reef removing fishing line from the coral that would become entangled by the miles of loose fishing gear. With a very limited understanding of the importance of his actions, he later learned the colorful rocks he was attempting to release from the detrimental presence of the fishing line were actually living organisms. This initial discovery coaxed him into diving deeper into the vast worlds of the marine environment. Unfortunately, he discovered that thousands of threats to his island's reef existed and not enough people were talking about the responsibilities we have as islanders to protect the ecosystems below our ocean's surface. William was particularly confounded by the state of the reef surrounding his village pier, prompting him, his girlfriend Leilani Sablan, and their large group of environmentally driven friends to start the Merizo Pier Project. Every year since 2017, SCUBA divers and snorkelers have grabbed their gear and helped clean the reef below the pier. 
Today William is in the United States Coast Guard and still driving boats like his father taught him as a young boy.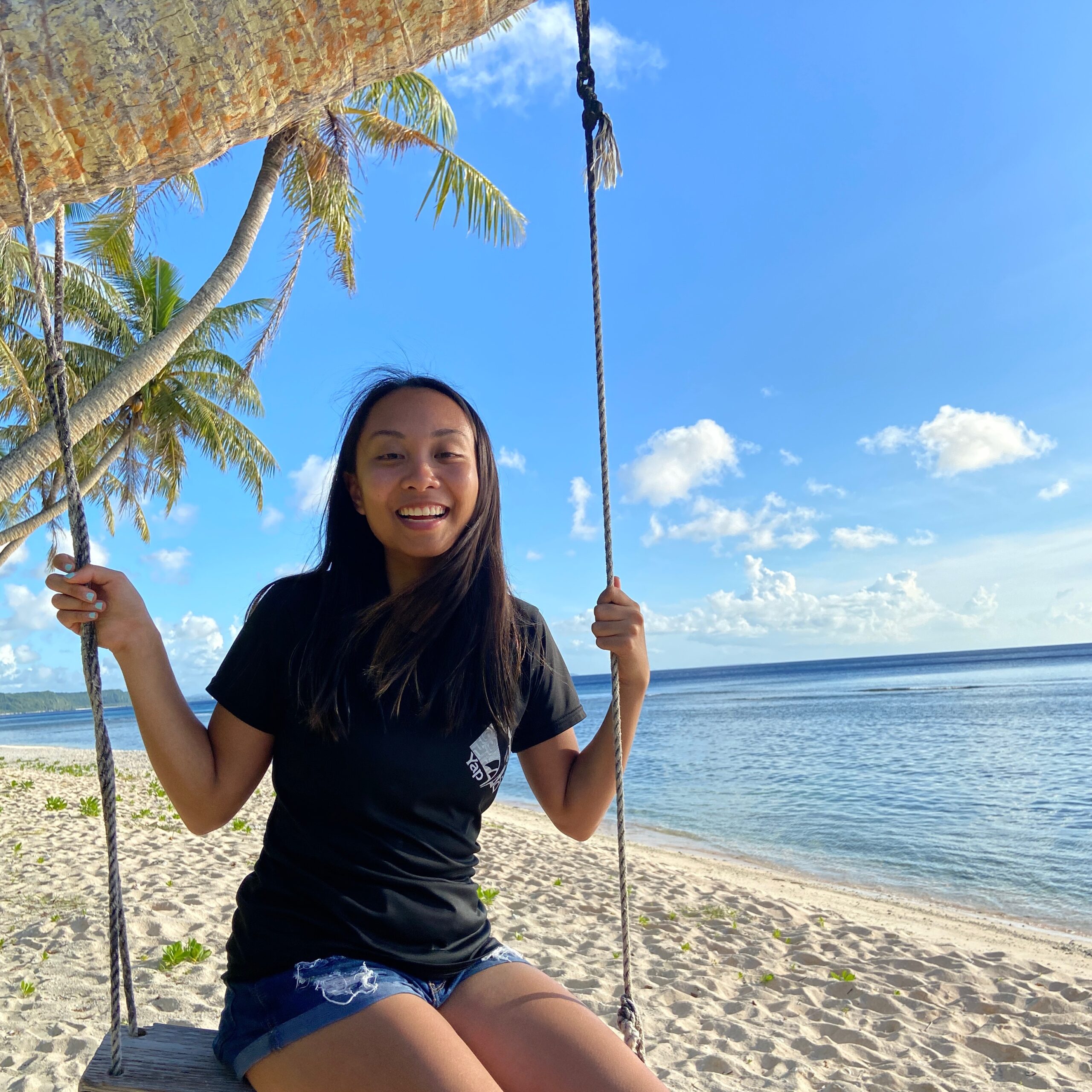 Christen Dimalanta
Marine Team- Research Assistant
Despite being surrounded by it for all of her life, Christen only fell in love with the ocean during her sophomore year of college, when she went snorkeling for the first time. After watching a video on the death of coral reefs in Environmental Biology, she decided to become an advocate for marine conservation. She joined Micronesian Conservation Coalition in early 2017 with hopes to find her place among people who shared the same passion for conservation.
She found her place years later – in education. She is currently a full-time instructor at the Academy of Our Lady of Guam. She proposed the inclusion of an Environmental Science course to the school's curriculum and the reintroduction of Marine Biology. This year, she is teaching both courses. As an educator, she knows that her duty is to ensure that the youth are taught about their power to effect change within their island communities and on a global scale. She is working together with her students to ensure the understanding of local and global issues, and she could not ask for a better profession.
Christen is currently working towards applying for her Master of Advanced Studies in Marine Biodiversity and Conservation with a focus on Environmental Education. She is interested in learning more about environmental justice and pro-environmental behavior so that she can share her knowledge with the generations after her. She hopes to continue to channel her love for education by expanding her knowledge and first-hand experiences through obtaining higher education. Her dream is to see the future generations she works with become catalysts for change.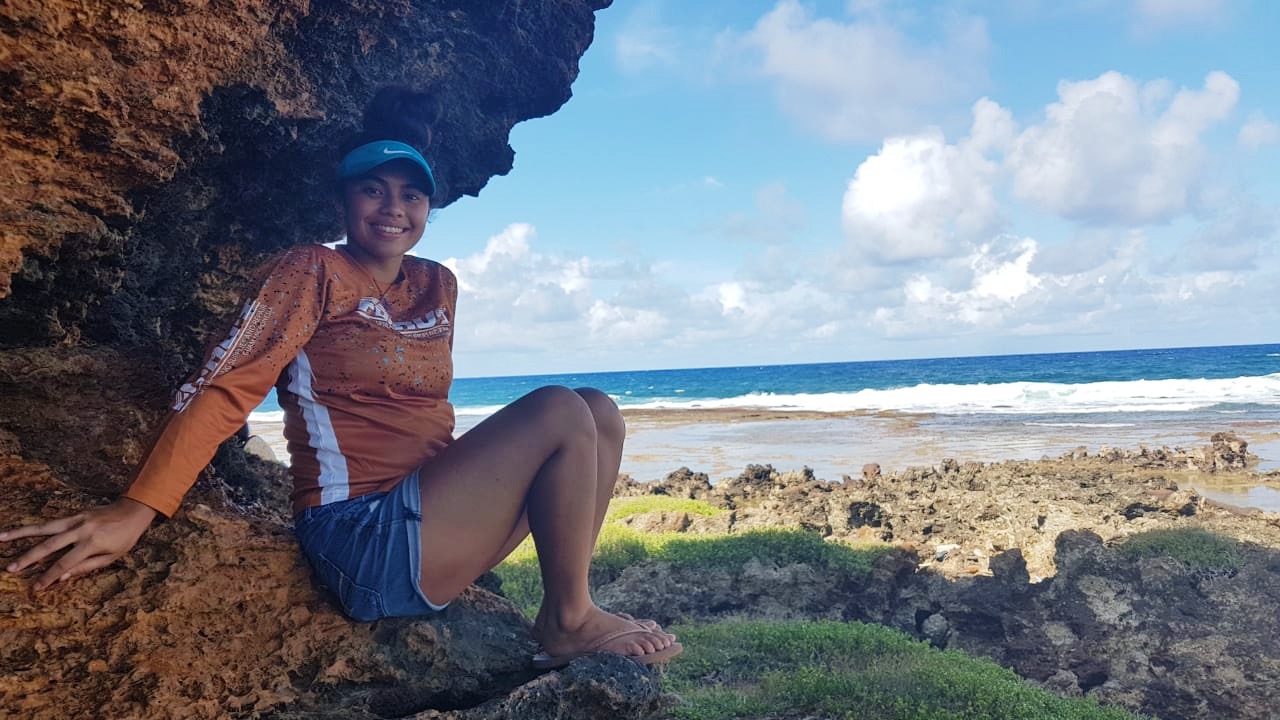 Katherine Perez
Marine Team
Raised on an island, she developed a strong curiosity and love for the environment and its inhabitants. Since she was a little girl, she had a connection with the land. She was always planting at the ranch/home or pulling weeds with her mama. She is not afraid to stick her hands in the soil. It wasn't until after high school, she fell in love with the ocean. Between freediving and paddling, she connects and learns with the water in different ways. Kat is a student at UOG, majoring in Biology and Agriculture because she could not choose between her love of the land or her love of the sea. After her bachelor's, she hopes to continue to graduate school or law school. All she knows is that she wants to give back to i tano' (land), i tasi (sea), yan i taotao (people).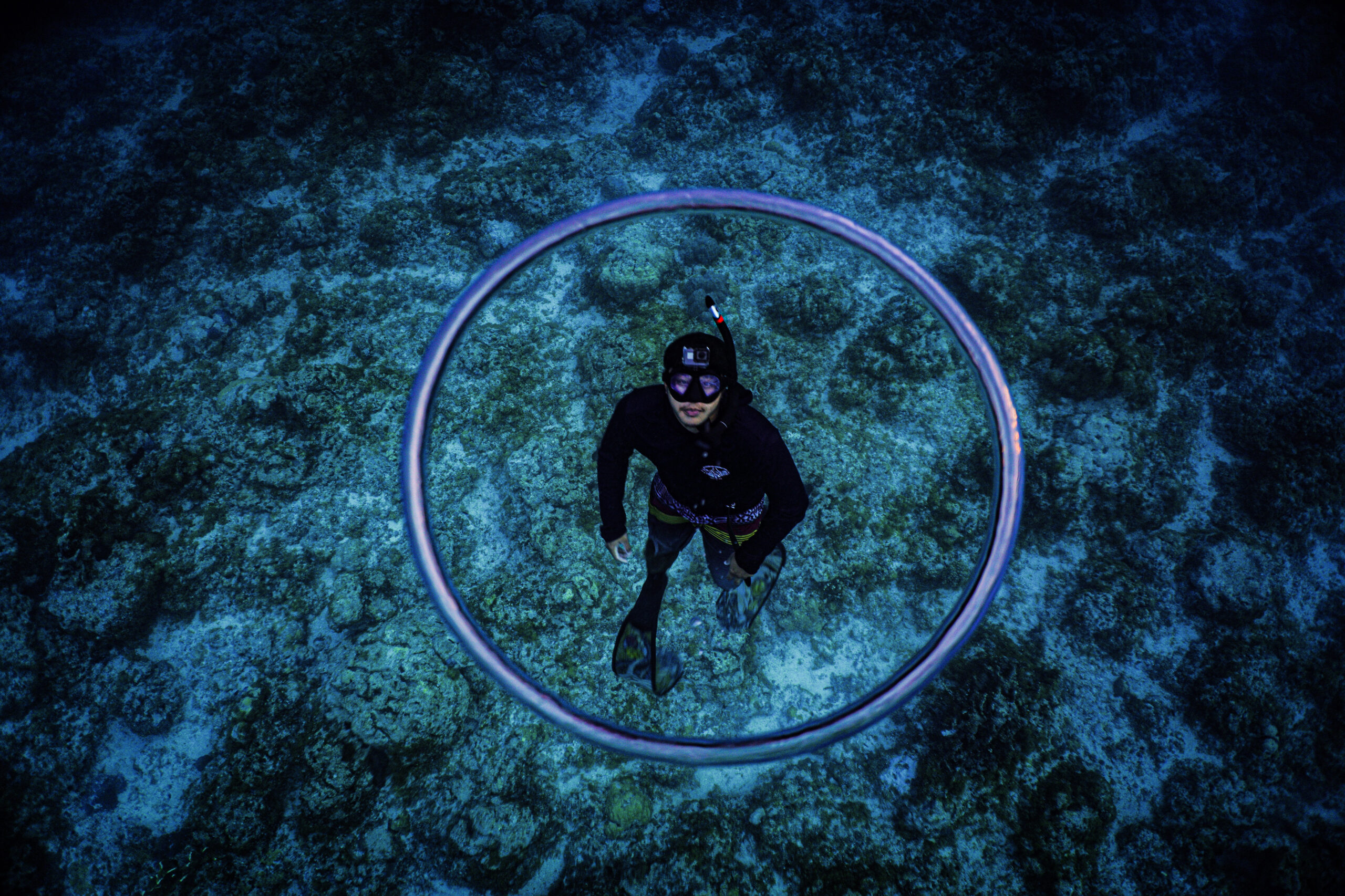 Robert Quintanilla
Marine Team
With Cocos Lagoon being his own backyard, it would be impossible for Robert to not love the ocean. Having a family full of peskadots (hunters/fishers), he was introduced to the land and sea at a young age. The sea and land go hand in hand for his lifestyle. Robert is currently in the process of achieving his captain's license. He spends the majority of his time fishing or hunting in the mountains. Being an avid fisherman, Robert notices the change in the reefs over the years he has dove them. With that being said, he wants to set an example to other fishermen about fishing sustainably.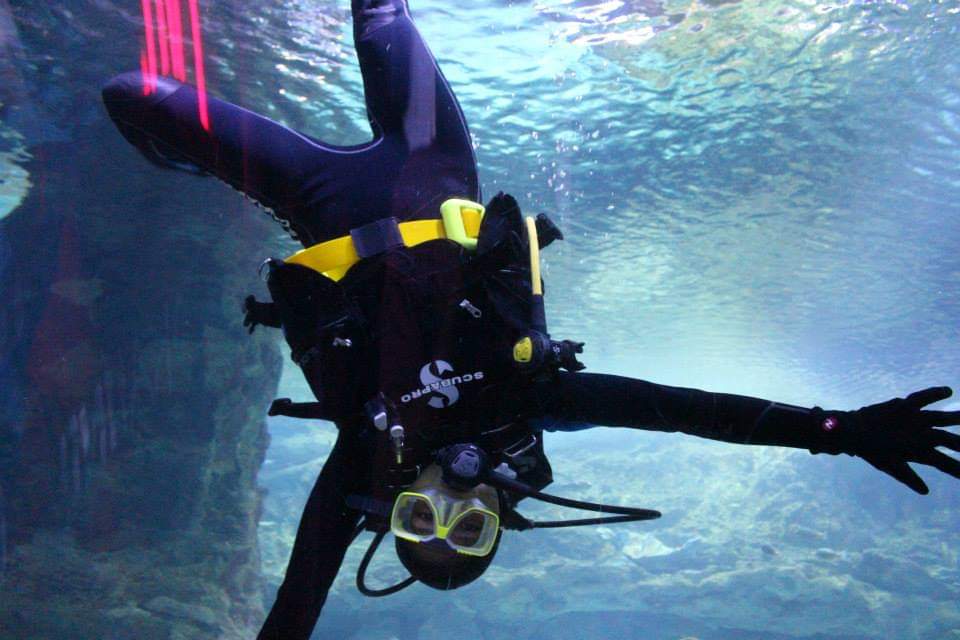 Kalani Reyes
Marine Team
Kalani is someone who has been passionate about exploring and protecting the ocean since the 4th grade when she read "Shark Lady: Diary of Eugenie Clark". Though she did not end up studying sharks, she applied her love for the ocean into her life by becoming a marine monitoring intern, a Scripps Institution of Oceanography Summer Undergraduate Fellow, and undertaking numerous volunteer and paid positions caring for corals, caring for the animals at the Underwater World Aquarium, as well as surveying in both Saipan and Guam for fish at the local fish markets among other things. Kalani has also published work in the Journal Marine Chemistry and is passionate about effective science communication and outreach, which is why she decided to become a part of MCC. Originally from the CNMI, Kalani has recently moved back to Guam to pursue her final classes for her undergraduate degree in Biology at the University of Guam before applying to graduate school for Marine Sciences to study coral reef microbiology. A passionate environmental and Chamorro culture advocate, you can often find Kalani wherever the action is with these groups on behalf of the ocean, the Marianas, and Pacific Island cultures. In her free time she produces the podcast Deep Pacific, a Pasifika podcast for people from Oceania, in addition to constantly listening to other podcasts, reading, running, and watching the waves. She hopes to contribute her perspective from the CNMI to MCC to help aid in their mission to conserve and protect our coral reefs and Pacific Islands against the threat of climate change through advocacy, outreach, and effective science communication.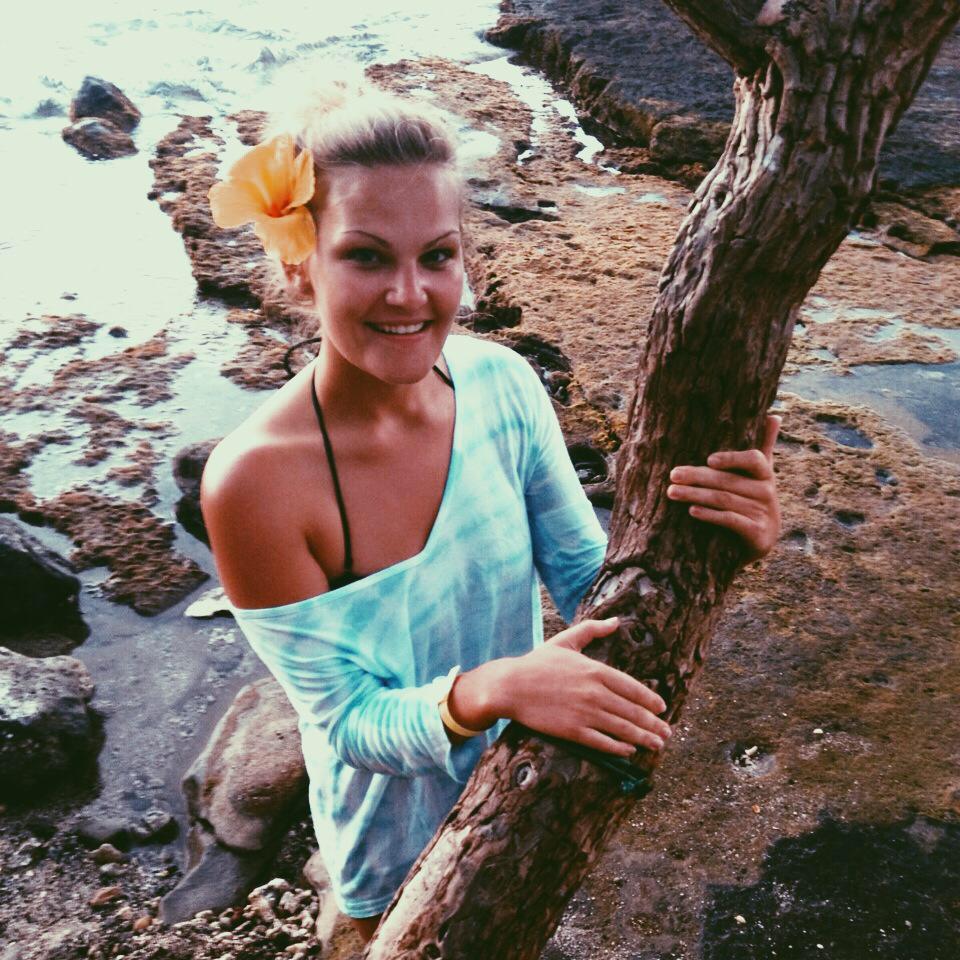 Jennifer Weir
Marine Team- Research Assistant
Jennifer is currently a senior at the University of Guam majoring in Biology. She
plans on following her mothers' passion for manta rays and moving onto research
once graduated. Along her administrative duties, she holds the dive safety officer
position (DSO). As a PADI Open Waster Scuba Instructor she ensures all the marine
team is properly trained and all in water activities are safe. Micronesian
Conservation Coalition has allowed for Jennifer to experience different internships
throughout Micronesia. When asked what she's looking forward to the most this
summer break is returning to the island of Yap, FSM and helping with the Marine
Ecology Class through with the Yap Catholic High School.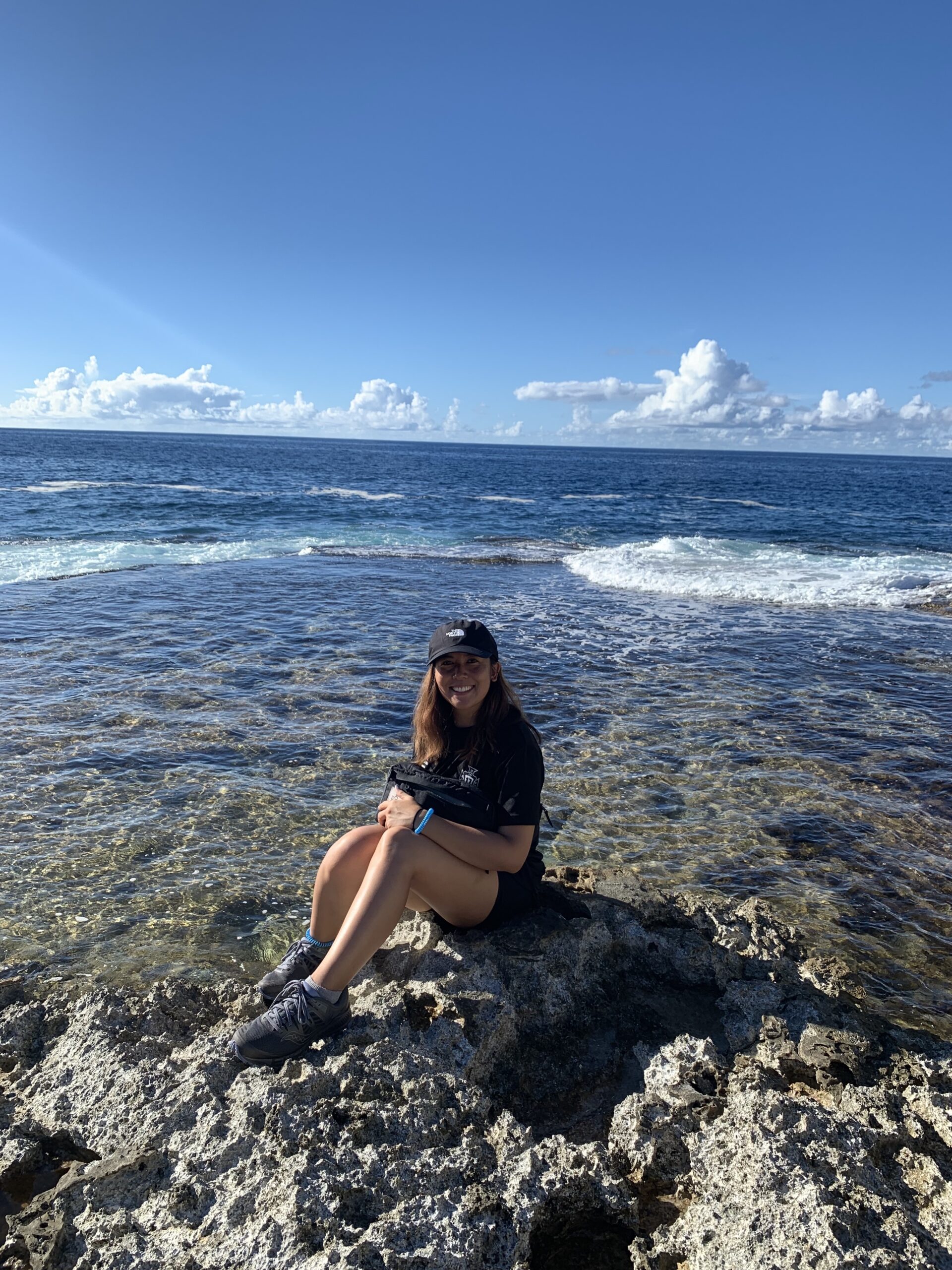 Nyssa Galanto
Marine Team
Nyssa is a Guam-based educator and artist. Nyssa's passion for ocean conservation started when she decided to take up swimming as a sport. The more she swam, the more her love for the ocean grew. Nyssa also loves to hike and has recently started her diving journey exploring the ocean to learn more about marine life. Nyssa graduated with a B.A. in Mathematics from the University of Guam and taught math and science at George Washington High School for three years. Being an advocate for STEM Education, she was an advisor for several STEM clubs such as GWHS Robotics and Marine Mania. She also assisted in coaching the GWHS Underwater Robotics team. Nyssa loves teaching and working with Guam's youth and hopes to inspire them to conserve the ocean and its resources. As an artist, Nyssa enjoys painting landscapes and has recently introduced herself to comics and illustration. She aspires to create art that will inspire people to protect the environment. Currently, Nyssa is focusing on applying to graduate school to further her education.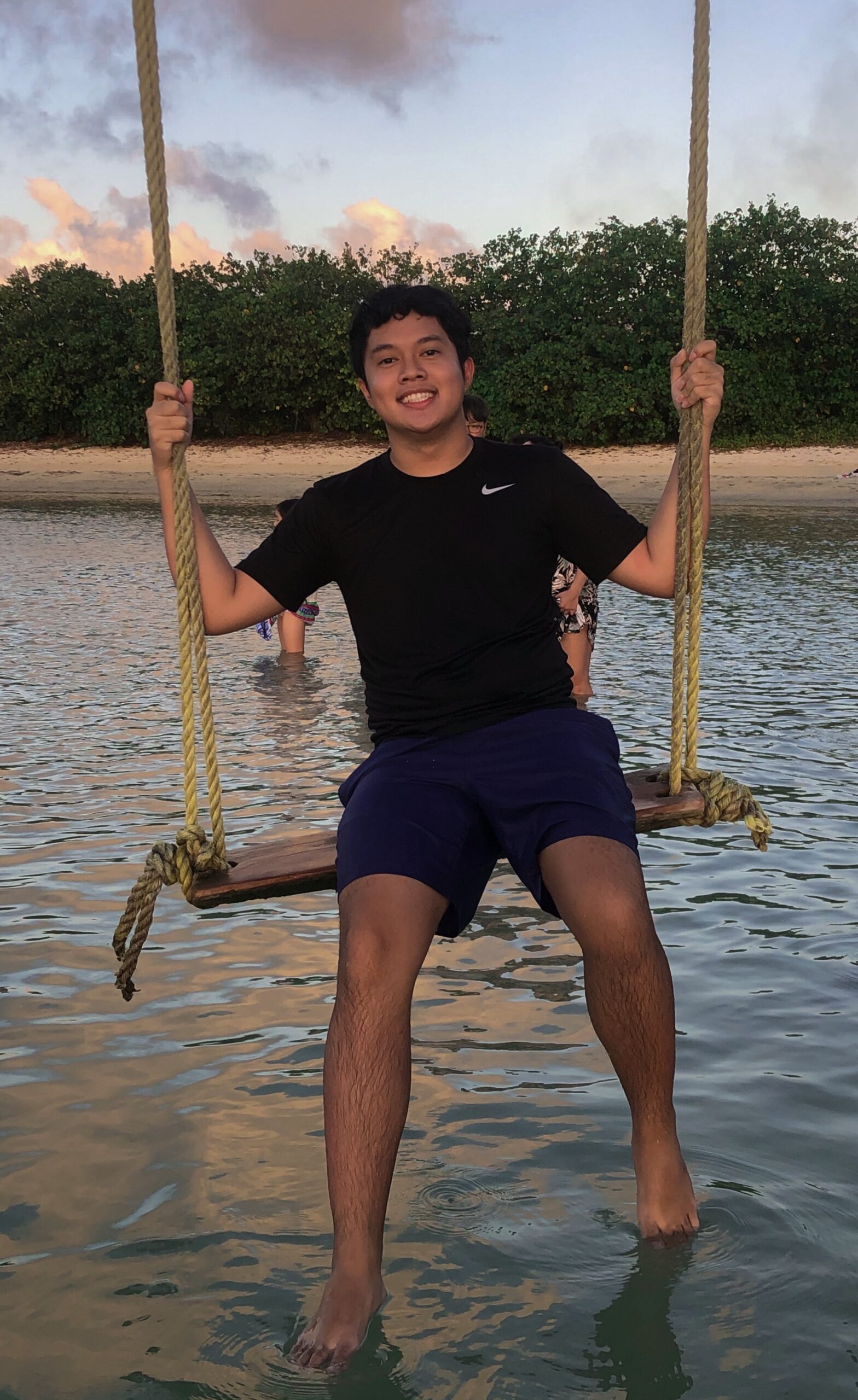 Nikko Galanto
Marine Team
From a young age, Nikko had always shown a great deal of interest in learning about life around him. The field of science fascinated him growing up, and he understood that the time we spend on this planet and its resources are limited. Determined to follow his passions and make a change, he decided to pursue a career in science. Currently, Nikko is a senior at the University of Guam working towards a B.S. in Biology. He later wishes to become a marine biologist and focus his efforts on research, conservation and sustainability. He believes that science is the key to better understanding our planet and learning how to save it.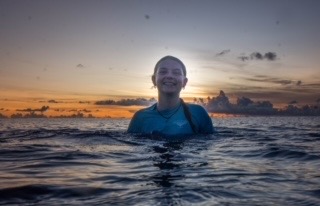 Ami Vice
Marine Team
Ami Vice
Ami was lucky enough to be born and raised on Guam surrounded by water. She spent most of her childhood outdoors and still enjoys spending time in and around the ocean with her friends, family, and dogs. Her favorite pastimes include making jewelry, snorkeling, and more recently, scuba diving. Currently, she is a full-time student at the University of Guam pursuing a degree in biology. Ami hopes this will lead to a master's degree (and maybe even a PhD) in marine sciences one day. Aside from being a part of the MCC Marine Team, she is also a Youth University Mediator with Inafa'maolek Conciliation. She is thankful for the opportunity to be a part of this amazing project and will be forever grateful for the experiences it has given her.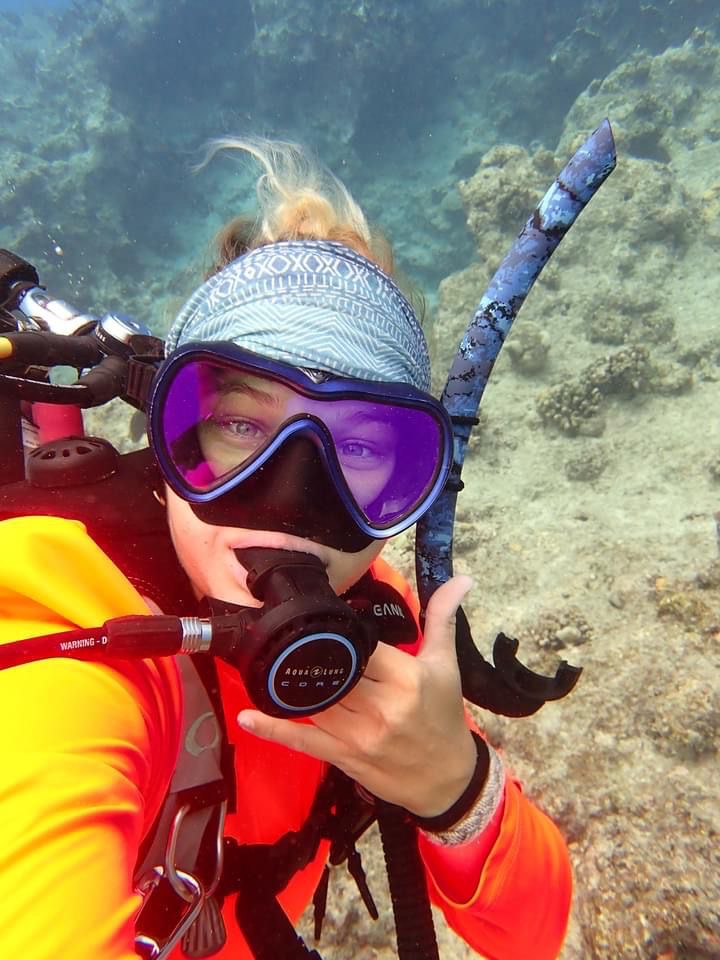 D'amy Steward
Marine Team
D'amy Steward
D'amy grew up in San Diego, California, spending her childhood in and on the water sailing, surfing, rowing, snorkeling, and diving. After a high school semester at sea with SEA aboard a tall ship, she knew she wanted to study marine science. D'amy graduated from Duke in 2020 with a double major in Biology and Environmental Science with concentrations in Ecology and Marine Science and Conservation. As a Duke Rachel Carson Scholar, she studied and mapped artificial reefs in the Southeast US; she later expanded her thesis to encompass the entire continental US. As a NOAA Hollings Scholar, D'amy spent a summer in Saipan studying the stripped eel catfish in the Saipan Lagoon. She fell in love with the region, so a Masters at the University of Guam Marine Lab seemed fitting. D'amy is a MS student under Dr. Laurie Raymundo and Dr. Pete Houk studying coral restoration and evaluating the effectiveness of potential restoration efforts in Saipan. She is excited to work with the MCC team and continue to give back to the island. In her free time, D'amy is an active outrigger paddler, kiteboarder, and loves to free dive, scuba, and hike. She plans to pursue a PhD upon graduation from UOG.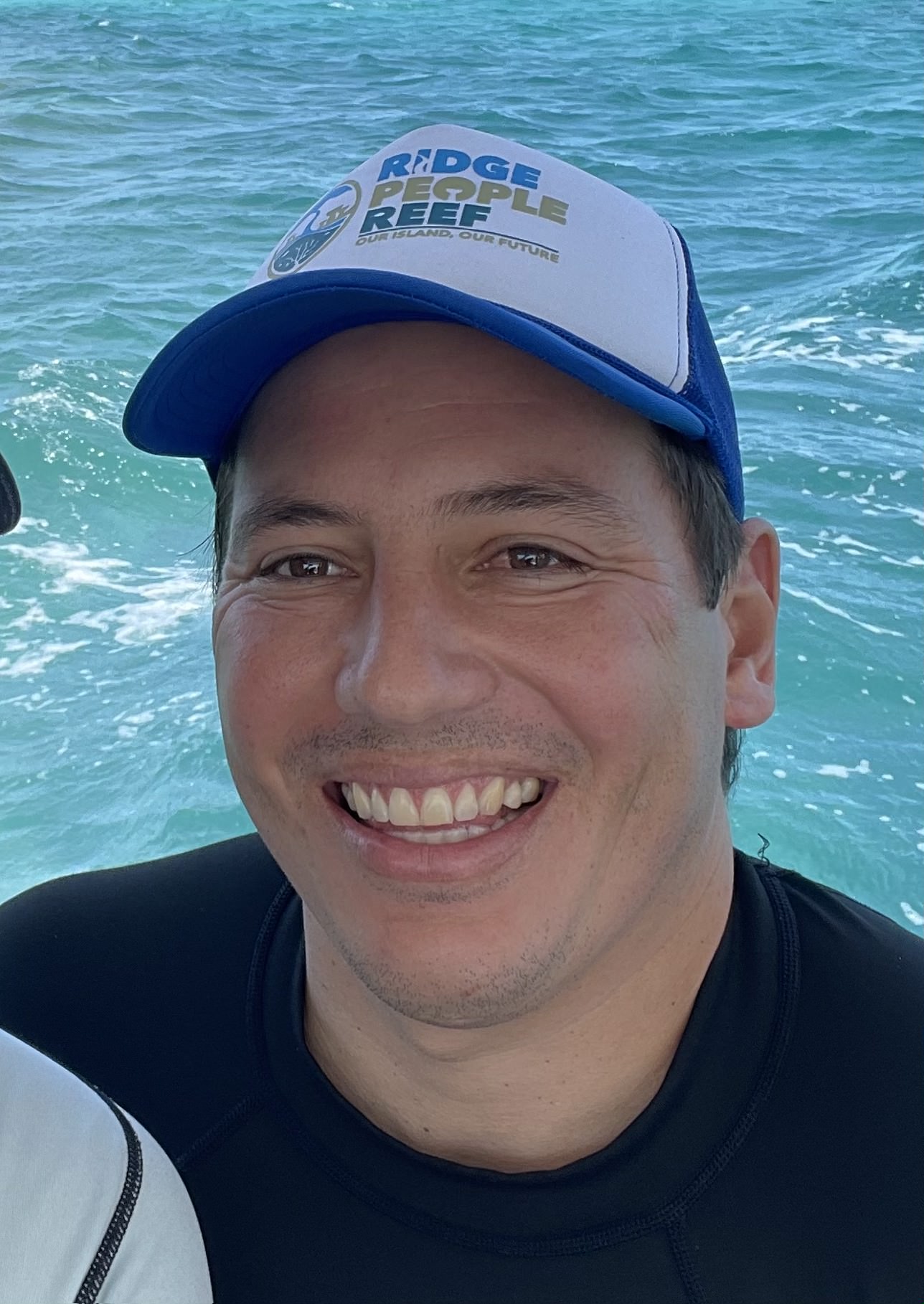 Pablo de la Vega
Marine Team
Pablo was born and raised in central Mexico. He received his bachelor's degree in Mechatronics Engineering, despite both of his parents being scientists. However, he realized after several years that he, too, had a passion for science. He began to pursue his second undergraduate degree in biology while working full time as an engineer in Michigan. During this time he met his wife, who is a scuba instructor, and after he began diving with her, he realized there was so much in the ocean he wanted to learn more about. He is currently a M.Sc. student at the University of Guam, studying the interaction of bacteria, algae, and corals.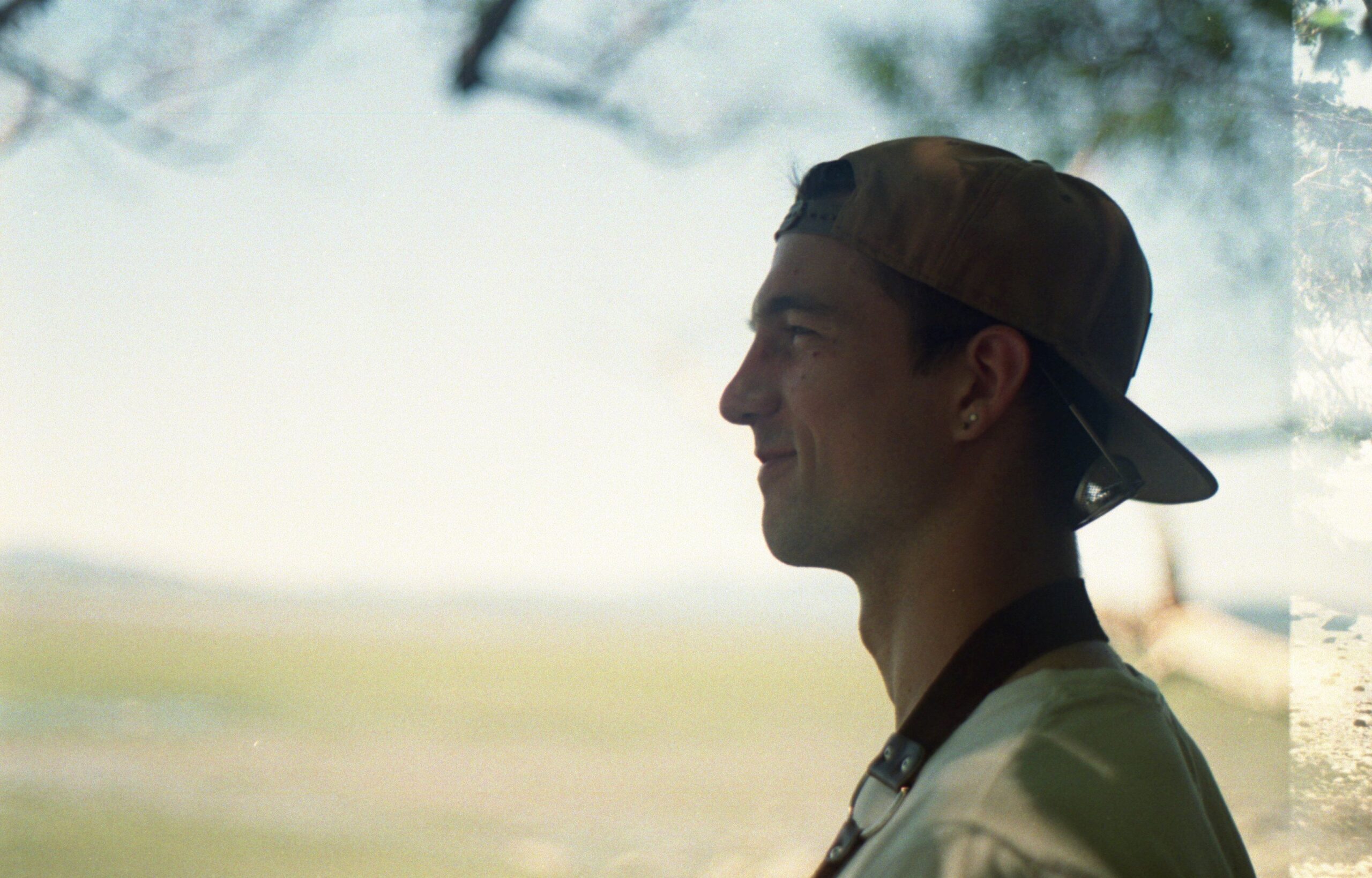 Logen Flem
Marine Team
Logen is a recent transplant to Guam after growing up in the Puget Sound of WashingtonState. During his youth he  developed a love and appreciation for marine life after countless visits to the state's beaches. On those trips he spent blissful hours searching for crabs, finding interesting shells, and swimming in the beautiful marine waters. His enthusiasm for marine ecology blossomed into the goal of becoming a marine research scientist and conservation advocate. On any given day you'll most likely find Logen snorkeling around Guam trying to improve his underwater photography skills. Logen is humbled to participate in MCC's endeavors, which shares common interests of mobulid conservation in tandem with marine education and outreach. Logen's professional experience includes positions within NOAA, California Sea Grant, Washington State's Dept. of Fish & Wildlife, and the Student Conservation Association. His education and training include a B.S. in Environmental Science and a B.A. in Economics/Political Science from Western Washington University, as well as certifications as a professional mariner, scuba diver, and commercial drone (UAS) operator. He is currently furthering his graduate education within the University of Guam's Biology program in partnership with UOG Sea Grant on route to a PhD.